From facials to lasers to antiaging
sunscreens,
lotions and
potions,
I am always seeking the best anti-aging skin care treatments and ways to eradicate dark spots, sun damage and fine lines. Trying to age gracefully, as they say. So I have no shame in asking around.
---
---
One day, I asked a mom at my kids' school what her makeup routine was since her skin was porcelain and flawless. I assumed she was covered head to toe in Cle De Peau concealer and foundation (my absolute faves) because her skin had that sort of luminosity you get when your mug is professionally done. She said, "I'm actually not wearing makeup. I only wear sunscreen but I get an IPL facial once a year." I grilled her with a million questions and then went home and googled all there was to know about IPL and IPL Facial Benefits.
---
[adsenseyu1]
---
It turns out that "IPL" stands for intense pulsed light — and I learned that some of the IPL facial benefits included stimulation of collagen (adios, wrinkles!), reduction of the appearance of sun damage, smoothing out of skin tone — and elimination of dark spots. Needless to say, I called her dermatologist at Cedars the next Monday morning.
And now I'm obsessed — and today I wanted to share the magic behind IPL with you. Listen up.
WHAT IS IPL?
IPL stands for Intense Pulsed Light. IPL machines are high energy devices which use specific wavelengths of focused light and infrared waves that pass through the epidermis. This practice stimulates all the right parts underneath your skin (without causing trauma to the outer layers) and it treats a variety of skin issues. From sun sports, large pores, broken blood vessels, rosacea, acne, etc.
---

The working basis of the IPL rests on the principle of selective photothermolysis, in which thermally mediated radiation damage is confined to chosen epidermal and/or dermal pigmented targets at the cellular or tissue structural levels.3 Tissues surrounding these targeted structures, including overlying or immediately neighboring cells, are spared, potentially reducing nonspecific, widespread thermal injury.- NIH

---
IPL FACIAL BENEFITS
Also known as photofacial or photo rejuvenation, IPL laser treatment offers a range of priceless benefits for a variety of different skin issues. Some of the awesome things it does is:
REDUCES FINE LINES AND SIGNS OF AGING
Smooth skin requires a good amount of collagen production. However, as the body ages, the production comes to a screeching halt! This leads to imperfect skin texture. The good news is that IPL therapy stimulates collagen and blood vessels below the skin to tighten the skin and reduce unwanted discoloration.
In sum, it does the work that your 16-year old skin used to do. It does this by affecting the tissues of the body without the need for invasive surgery!
ELIMINATES DARK SPOTS
We all have dark spots or brown spots in some form or other. They're caused by the excessive production of melanin in the skin, resulting in pigmented skin. They can be classified as age spots (sun exposure), birthmarks (on a kid at birth) or melasma (from pregnancy or taking birth control pills).
The IPL light is applied in a series of gentle pulses. This light penetrates through the skin and breaks up the pigment in the skin. The brown spots heat up, turn darker, and then flake off in a few days. It's like magic! Your skin is porcelain and flawless. The spots return so you need about 3-5 treatments over time.
IMPROVES SKIN TONE AND TEXTURE
Patients notice that their skin tone is improved and surface imperfections are reduced. It's pretty awesome and one of the first things you will notice.
TIGHTENS PORES
The effects of this are immediate! Large pores can cause your complexion to appear dull – and even dirty!
Pores become more prominent when they are clogged with oil or dirt, making them appear larger than they really are. As people get older, too, sun damage and decreased skin elasticity can cause pores to dilate.
IPL photo facials specifically minimize enlarged pores by tightening them.
REDUCES / ELIMINATES SPIDER VEINS
Another great benefit that patients have been using IPL for is the treatment of spider veins! IPL treats spider veins by heating and damaging the walls of the blood vessel which causes them to disappear over time!
THE IPL LASER FACIAL TREATMENT
WHAT TO EXPECT:
The procedure is pretty simple and not THAT painful – but plan to carve out 3-4 hours in your day. This is me before the procedure. You can see the sunspots on the left side of my face.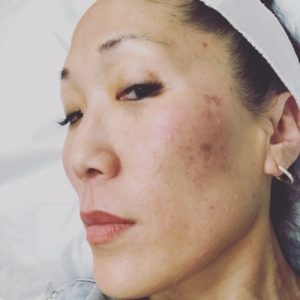 NUMBING GEL:
Most likely, the nurse rather than the doctor will apply a numbing gel all over your face. Then you sit and wait on a table for about 20 minutes. It feels like you have novocaine all over your face.
LASER:
Once you're numb, the doctor will come up and place goggles over your eyes to make sure none of the laser light penetrates through your eyelids. It's not really necessary but it's an extra precaution they take. The actual treatment will consist of a series of little pulses of flashes.
PAIN: 
It is pain-free? Well no. But it's definitely bearable due to the gobs of numbing gel that they put on you. It just feels like a fast zing sensation. Or like you're getting a black or whitehead extracted.
SMELL:
It smells like burning skin! Therefore, the nurse assisting the doctor will be holding a tube to suck out any of the burning smell. I know. It's totally gross.
TIME FRAME:
The actual laser procedure only takes about 30 minutes. But the consultation, the wait time, etc. will take a few hours.
IPL FACIAL TREATMENT RECOVERY
DAY ONE:
Ah yes. The recovery process. I made the mistake of getting my IPL facial 12 hours before a movie premiere and party event. I looked like a disaster. Thankfully, I had a baseball hat and I wore it halfway down my mug the entire night. It didn't help that I met Tony Hawk that night. If you have an event, do NOT get an IPL!
(To be fair, my doctor did advise that I wait until after the premiere but since I already make the trek to the office, I didn't want to have to wait for another appointment.)
I was bright red with DARK SPOTS all over my face. And my face was puffy and red with inflammation. Your preexisting dark spots became even more pronounced, and spots you didn't know existed suddenly will rise to the top of your epidermis.
In terms of moisturizers, I only used Aquaphor at night and an Avene sunscreen (recommended by my doctor) during the day.
DAYS TWO/THREE:
To say I looked horrendous is an understatement. Work from home if you can!
DAYS FOUR/FIVE:
Thankfully, there was a light at the end of the tunnel. After you would wash your face with the cleanser, you see the freckles from your face literally fall off into your sink. It was kind of amazing. For optimal results, do NOT pick at your freckles. I promise they will all fall off at their own pace.
DAY SEVEN:
You're golden. My skin was beautiful and spotless and clean. Cleaner than I have seen it for YEARS! No pores, no spots, no wrinkles!
DAY FOURTEEN:
My fine lines and wrinkles were still gone (and they still are 2 months later); however, the dark spots started reappearing. This is why many doctors recommend getting 3-5 treatments. My doctor did a second treatment and also prescribed a bleaching cream. Both worked wonderfully.
IPL FACIAL TREATMENT COST
Yeah, so it's not cheap. My mom bought this treatment for me as a gift! (You know Asians and their prioritization of skin health!)
The cost really depends on where you go. Some doctors charge $2,000-$3,000. Some charge $1,000-$1,500. And some charge a $200-$300.
My doctor's fee was for ONE treatment (however he threw in my second treatment as a free bonus since my spots returned faster than expected) – but some doctors create packages for their patients which include three visits.
Call around. Don't get a Groupon since this is your face you're talking about. Make sure you get a personal recommendation from a friend who loved their results.
IPL TREATMENT RESULT
I am totally pleased with the results. I think because the light penetrates through the layers of the skin, the efficacy of the treatment is top notch. It isn't just superficial exfoliation (which I'm a huge fan of as well) – but the photo facial treatment hits the second layer underneath the epidermis, which allows for long-lasting and profound results.
I will for sure be making IPL facial laser treatments part of my yearly regimen!
---
[adsenseyu1][adsenseyu2]
---
+ Thanks for reading. And be sure to read my upcoming post on HOW TO PREVENT DARK SPOTS!