MANUKA HONEY is my go-to secret of the year. There are so many manuka honey benefits which I am here to discuss with you today!
Manuka honey hails from New Zealand and is regarded as one of the most beneficial and nutrient-dense kinds of honey in the world. This all makes sense as it is one of nature's richest antimicrobial sources. It works miracles in terms of reducing the body from all forms of inflammation. Listen up!
---
---
MANUKA HONEY BENEFITS
Manuka honey is known to aid digestive illnesses, skin issues, sore throats and dental diseases. In other words, it does wonders in terms of reducing the body from all forms of inflammation. Let's read on with it.
HELPS WITH DIGESTION AND DIGESTIVE ISSUES
Manuka honey is beneficial at reducing acid reflux and balancing your digestive system to heal stomach and intestinal imbalances. This helps tremendously for all of those with SIBO, reflux, and low stomach acid.
ENHANCES WOUND HEALING
The NIH has shown that because of manuka honey's rich antioxidant, anti-inflammatory and antimicrobial properties, manuka can be an effective wound dressing to promote rapid healing in burns and wounds.
TREATS ACNE AND SKIN ISSUES
How incredible that this sticky goodness also has beautifying effects? Applying honey on affected areas for a few minutes and then washing off with gentle soap and water usually does the trick.
PREVENTS TOOTH DECAY
The NIH reported a study whereby thirty volunteers were randomly allocated to chew or suck either a manuka honey product, or sugarless chewing gum, for 10 minutes, three times a day, after each meal. Plaque and gingival bleeding scores were recorded before and after the 21-day trial period. Analysis of the results indicated that there were statistically highly significant reductions in the mean plaque scores in the manuka honey group, with no significant changes in the control group.
Well, why yes! I will indeed have some Manuka lemon tea after my meals!
COUGH AND SORE THROAT REMEDY
Antibiotics do little to improve colds and flu or symptoms like coughs and sore throat because they are not designed to treat viral infections. However, the antibacterial, anti-inflammatory and antioxidant properties of manuka honey are a great alternative to drugs when treating coughs. 
Use 1-2 tablespoons each day. Either just eat it by the spoon or make a delicious honey lemon tea!
WHERE TO GET MANUKA HONEY
You can buy this international treasure now at Whole Foods and online.
My sister and her family just returned from New Zealand and brought me back a plethora of options in terms of honey, honey lozenges and honey candy! But if you don't have a sister who can bring you back these goodies, thank goodness MANUKA HEALTH has a top of the line option for us here in the States.
It's for sure more expensive than the honey bear at your local store. But think of it as a multipurpose prescription drug and a tasty treat in one!
---
MANUKA HEALTH has a high grade, premium Manuka Honey. It's certified for natural methylglyoxal content (minimum 250mg/kg) and it's scientifically proven to be a key natural compound in Manuka honey MGO. The best part is 400+ Manuka Honey has a deliciously rich taste and a velvety smooth texture.
---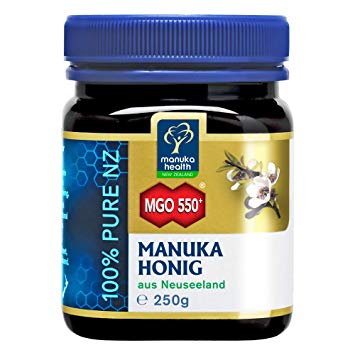 ---
[adsenseyu1]
---
++ Thanks for reading up on all of the manuka honey benefits! It's the world's best secret in terms of health, wellness, anti-aging and beauty! What's not to love!