If you were a disciple of Causebox, you know that they rebranded to ALLTRUE and expanded their offering to include subscription-based eco-friendly essentials, a brand new magazine and podcast network, and connected-community features. They are creating a 360° socially-conscious lifestyle membership that sits at the intersection of commerce, content, and community — and truthfully, it's exactly what I need. I received my first Alltrue Subscription Box (free delivery!) and I am in awe of its contents!
ALLTRUE SUBSCRIPTION BOX MEMBERSHIP OPTIONS
As with all subscription boxes, there is a membership. But what's great about ALLTRUE, is you have the option of joining their quarterly or yearly membership. The Quarterly Members pay $54.95 per season, while the yearly subscribers pay $199.80 in advance and therefore get a whopping $20 a year saving!
The yearly memberships also allow you to customize your boxes which means you get to choose your product in every category!
FALL 2021 SUBSCRIPTION BOX
I just received my Alltrue Subscription Box for Fall (I didn't personally select) and I am so psyched about what's in it. So whether you choose on your own or they curate for you – you won't be sorry. Let's look in my bag!
I am absolutely obsessed with this tote! It looks chic and Parsian — and is roomy enough to carry your laptop, laptop and sunglasses. And it has pockets to keep things organized! And note the removable strap! You can wear it as both a crossbody and a classic tote. What's not to love?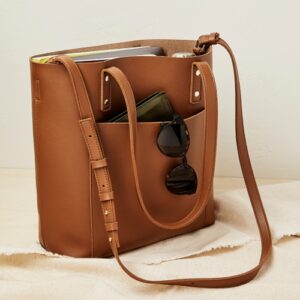 Botanist, herbalist, and Huna Skincare founder, Heather Urquhart believes in harnessing the natural, potent power of plants.
This buttery balm is made with nourishing, healing, and natural ingredients like calendula, organic mango butter, pomegranate, avocado, carrot, broccoli, and chia seed oil and is perfect to protect our skin during these colder months!
The ingredients of the All Huna Skincare products are organic and cruelty-free botanicals. Also, they harvest these from the Nutrition Garden on the Huna Farm in British Columbia, Canada.
Oh, and the smell? To die for!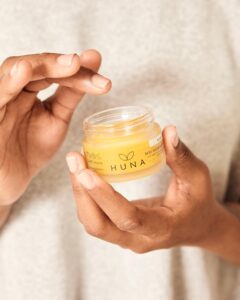 These amazing luxe eye treatments in the Fall Box are made with pure nano-active 24K gold particles that work together with skin-loving nutrients like seaweed collagen, hyaluronic acid, and vitamin C to provide ideal anti-aging benefits for those seeking environmentally-friendly products.
These magical MINTGold Eye Masks are cruelty-free and specially formulated WITHOUT parabens, sulfates, phthalates, mineral oil, alcohols, and synthetic fragrance. Their high performance collagen absorbs 150% more efficiently into the skin compared to other plant and animal collagens. And they're ridiculously easy to use. I love refrigerating the masks for an hour before applying! Bring the spa home!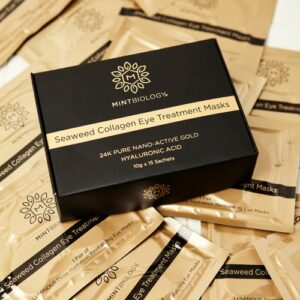 Accompany Jute Welcome Mat ($38 value)
Give your neighbors the message of community, crafted with care. This gorgeous welcome mat is all-natural, artisan-made and available exclusively from Alltrue. Made with 100% natural jute fibers sourced in Calcutta, this handwoven homeware is perfect for indoor or outdoor covered use.
Notice the calm and inviting welcome. Aaah.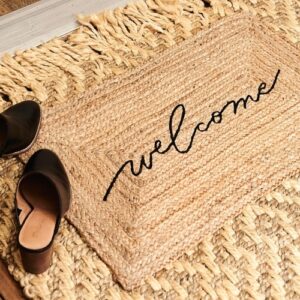 EACH Jewels Layering Necklace Set ($42 value)
What fashionista doesn't love layers? These delicate necklaces are for layering! Wear both together as a set or mix and match with the rest of your collection.
Made with 14kt. gold-plated steel, this duo is hypoallergenic and super gorge!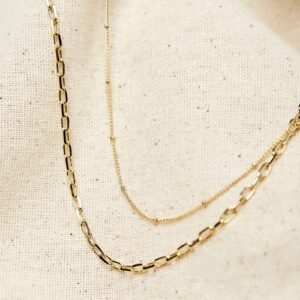 These measuring spoons by Kitchen Innovations are beautiful and elegantly designed — and they're the safer alternative to your plastic goods. There are no fillers or by-products and they're just aesthetically divine to boot.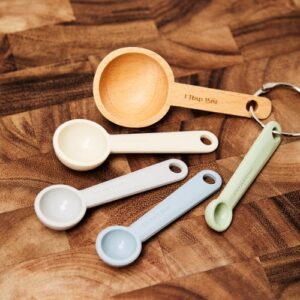 Subscriptions are $54.95/quarter or $199.80/year. And worth every dime.
Are you sold yet? They make the perfect gifts — so plan on giving an Alltrue Subscription Box this holiday season!
Alltrue is a mission-driven women's quarterly subscription box featuring products that are ethically-made and sustainable, as well as brands that support charitable causes.