The smartest approach to healthy aging and heightening energy is healing from the inside out. I am a crazed mom of two small girls – with a corporate job and outside businesses and martial artist who is constantly training. I need to do everything I can to simplify ways to boost my health and wellness, especially during these insane times.
We are all working, maintaining some semblance of normalcy for our children and families. And in order to do so – it's vital to take care of ourselves first.
---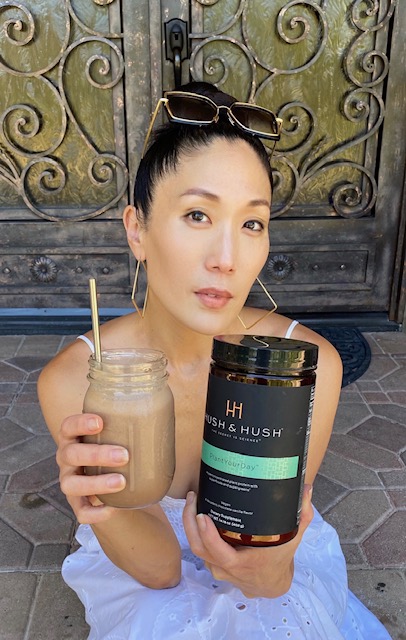 ---
My dear friend and beauty expert, Stacy Cox knows of my back to back (and overlapping) schedule and knows I am constantly the human guinea pig in search of effective life-enhancing vitamins and supplements and vegan protein powders. I'm also a sucker for sleep hacks – as I can speak first hand that sleep is just as important to regenerate cells and energy as the food and supplements you put in your body. (Equally vital for a beauty boost too.)
HUSH AND HUSH
Stacy introduced me to Hush and Hush and it's a newfound love of mine (I have apparently been hiding under a rock) – they're a luxury line of beauty supplements. My favorite products of theirs are the PlantYourDay Vegan Chocolate Protein powder. (With prebiotics and probiotics and anti-inflammatory awesomeness.) As well as their Mind Your Mind supplements. Which calms your mind, body and soul for a restful and full night sleep. (It contains stress blocking ingredients like rhodiola rosea root and holy basil leaf!)
I wanted to let everyone in on them since they have changed my life and simplified my health, wellness and beauty regimen. I am thrilled to collaborate with them. And I am honored to offer a FREE GIVEAWAY ON INSTAGRAM TO MAINTAIN YOUR HEALTH AND WELLNESS.
FREE GIVEAWAY ON INSTAGRAM
Follow these simple steps:
Enjoy, be well. Get healthy.
---