GUA SHA is having its moment right now. Evidently, it's the new jade roller, the new kale, the new black — as Gua Sha facial benefits are outweighing the benefits of all the other facial tools. It's become so popular (even Nordstrom and Neimans are carrying their own versions now), that I needed to take a deep dive into it!
---
[adsenseyu1]
---
WHAT IS GUA SHA?
Gua sha is a traditional East Asian healing technique where the body surface is press-stroked with a smooth-edged instrument to intentionally raise therapeutic petechiae. – NIH
GUA SHA FACIAL BENEFITS
This is a traditional Chinese medicine technique and health and beauty secret tool that helps with many things!
HOW TO GIVE YOURSELF A GUA SHA FACIAL
Giving yourself a Gua Sha facial is sort of like rolling your body out on a foam roller. For years I have been rolling my body out on a roller since health and wellness experts like Ashley Borden (who also happened to be my partner and cohost of the KIMCHI+CHALLAH podcast – coming soon!) have been advising the public that rolling out repairs those muscles and joints! It releases fascia (which reduces inflammation, increases circulation and improves tissue quality). And for those who don't know, fascia is the connective tissue between the muscle and skin. (Think the white part of the chicken.)
The exact same concept applies with Gua Sha facials. Devotees swear by its ability to make your face look slimmer, ward off headaches and jaw pain — and give you brighter skin! I'm too scared to do Botox or any of its cousins, so this has been the perfect answer for me.
My favorite gua sha tool is DARCASE'S 24K GOLD PLATED AURI GUA SHA which I learned about from a gorgeous beauty event at my fave Beverly Hills spa, CIEL SPA BEVERLY HILLS at the SLS Hotel. I love the weight of it and its ergonomic feel. And as we know, gold holds ancient healing, anti-aging and brightening properties — and its reflective particles have antibacterial and inflammatory magical powers.
EASY STEPS TO THE GUA SHA TECHNIQUE
The process is so simple, fun and therapeutic — that even my 5 and 7-year-old girls can do it!
SERUM / OIL
Apply a few drops of face oil or serum by pushing and pressing into the skin. (I use my own Seoulfull Skin Food!) Don't rub as we will need the oil/serum as a lubricant to glide the gua sha tool.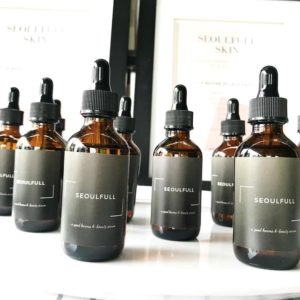 PLACE GUA SHA BOARD IN DOMINANT HAND
Start with the jawline. Hold one hand on your chin. Then use your dominant hand to hold the gua sha tool (at a 15-degree angle) to delicately glide across the jawline on the surface of the skin, upward toward your ear. (Always go upward, not downward! No one wants to facilitate gravity!)
Repeat this 3-5 times.
Next, go to the base of your nose and glide the board toward your cheekbone.
Then swipe from the side of your nose, over your cheekbone toward your temple.
Finally, take the board and place it right under your third eye. Glide the board upward and well into the scalp. Massage it into your scalp once you get there. This is crucial for relieving stress and insomnia.
Repeat on the other side.


---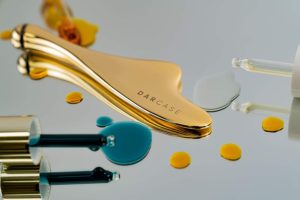 ---