MAURISSA TANCHAROEN WHEDON INTERVIEW
Maurissa Tancharoen Whedon  ("Mo", "Meesa" to her friends) is a Thai Thumbelina — miniature, beautiful, adventurous, wise.  Heightening the bar for all Renaissance women, Maurissa has achieved more in her thirty-ish years than people do in a lifetime, providing plentiful color to feed a perseverance-showcasing memoir.  She holds a tremendous beauty (the kind enabling LA's ubiquitous handbag/barrette making, sample sale hosting trophy wives to pass lazily through life) — and luckily she holds that age ambiguity bestowed upon Asians like herself.
Despite her genetic aesthetics, Maurissa opted to Natalie Portmanize and capitalize off of her brainiac side.At an early age, Maurissa was diagnosed with Lupus, a chronic autoimmune disorder — however, notwithstanding the setback, she ignored all obstacles and refused to become victimized by her circumstances.  Throughout her childhood and teenage years, Maurissa consistently situated herself in a dynamic and forward moving stance:  She starred in "Badder", the popular-in-the-80s parody segment of Michael Jackson's "Moonwalker"; she was a song girl/cheerleader for Buckley's varsity boys' sport teams (alongside then and current best friends Rashida Jones ("Parks and Recreation", "The Office), Karen Richardson (Obama's Associate Director for International Affairs), and Denise Kalinowski (Senior Designer, Old Navy)); and she sang and danced as a member of the R&B Motown group Pretty In Pink. All these extracurricular missions were accomplished while maintaining her National Honor Society membership.  So far we kftelenow:  Maurissa multi-tasks.
---
[adsenseyu1]
---
Upon graduating from Occidental College, Maurissa assisted executive producer Mark Tinker (of NYPD Blue fame) where she was introduced to the how-to of television production.  She got her first big break when she sold a feature script to Revolution Studios.  Soon after, she was staffed on a Fox sitcom, Oliver Beene.  However, even throughout these successes, Maurissa juggled the highs and lows offered by Hollywood and continued to struggle with her autoimmune disorder.
Maurissa suffered a severe Lupus attack at the time she and younger brother Kevin Tancharoen co-created and executive produced MTV's dance oriented reality series Dancelife, starring Jennifer Lopez.   While multitasking the various duties that come with the role of Producer, Maurissa had to undergo chemotherapy treatment and the physical and emotional side effects that accompany it.  To the dismay of its loyal fans, "Dancelife" went off the air after its first season.  She had seen sunnier days.
Meet Jed Whedon.
Along the way, Maurissa met then struggling indie-rocker Jed Whedon (Crossroads) from the LA-based band, The Southland(comprised of Crossroads alums Jed Whedon (lead vocals, guitar), Nick Gusikoff (lead guitar) and Andrew Crosby (Drums)) at Sushi Nozawa in the valley.  They were introduced through a mutual friend.  Became friends themselves.  Then became inseparable.  Before Maurissa and Jed became the Emmy Award winning power couple they are today, things were less than easy.  Jed and his band tried aggressively to get their band off the ground, touring the national club circuit — while Maurissa stayed in Los Angeles and continued to hit bouts of career vicissitudes.
Then, the 2007-2008 Writer's Strike hit.  Their immediate panic turned into genius bypassing of the Writer's Strike's protested issues as they collaborated with Jed's brother Joss Whedon on the internet cult masterpiece Dr. Horrible's Sing-Along Blog, starring Neil Patrick Harris. In these webisodes, they were able to showcase their various talents and capacities:  acting, composing, writing.  Maurissa and Jed's somewhat under-the-radar obscurity was obliterated as Dr. Horrible turned into what TIME Magazine called one of the year's best inventions.  Snowglobes on Maurissa and Jed's respective bookcase shelves were quickly replaced with Emmy, Hugo and Streamy awards.
Succeeding Dr. Horrible, Maurissa and Jed's respective careers have consistently been on the up and up .  They wrote for FOX's hit television show, Dollhouse (on which Maurissa also acted) and Lifetime's Drop Dead Diva.  Currently, they're writing on the much talked about, critically acclaimed hit series, Spartacus:  Blood and Sand — and they just recently finished writing the Dollhouse comic book.
Maurissa has surely trekked the valley and peaks — but, it looks like high peaks will be her new constant residence.  Her ever-increasing number of fans fall in love with her as a woman — and they religiously twitter-follow and retweet her like she's the messiah. [Follow Maurissa on Twitter @motancharoen.]
Maurissa has met the love of her life and is in a marriage to which one can only aspire.  At  Maurissa and Jed's wedding reception filled with love-hungry optimists, Jed's brother (writer) Zack Whedon said it best:  "And in closing, to all the couples out there, Jed and Maurissa have a better relationship than you.  This is true and you should seriously reevaluate some stuff."  The crowd roared; but there was truth and profundity to it.
It's a good thing Maurissa never fell prey to self-victimization.  She's petite in size – but her achievements and aura speak grandeur.  She has a fairytale marriage, enviable career, actress-model-esque genes, nerd-like brains — and luck.   A poster child for perseverance, I think it's safe to say she wouldn't change a thing.
Maurissa is a Los Angeles native that one ought to know.
I asked Maurissa a series of question to gain insight into her fairytale and adventurous life.  Come take a look as this Angeleno reflects on her most memorable Los Angeles moments.  And for all you aspiring writers out there — come read how she climbs out of her writer's block.
E: Which area of Los Angeles did you grow up in?
M:  Van Nuys.  I'm an unabashed Valleygirl.
E: High School?
M: Buckley School
E:  a' la Popcorn or Camp Beverly Hills?

M:  Camp Beverly Hills.  I had socks that matched the logo accordingly.
E:  Favorite Mulholland moment
M:  This isn't necessarily my "favorite" but definitely "memorable".  I made an impulsive u-turn on Mullholland and had a little fender bender… In my friend's car… Without a license.  I'm still very sorry about that, Denise.
E:  Favorite Hollywood moment:
M:  Discovering Ballistics (one of the few 18 and under LA clubs that popped up in the 90's) and dancing the night away with diet coke in hand while stalking random Tiger Beat heartthrobs with my girlfriends.
[**A facebook thread on a Balystx revival with comments from David Fasutino (Married with Children star who founded the club) and Nic Adler (who manages and owns The Roxy on Sunset with his dad Lou Adler) is discussed here – http://www.facebook.com/photo.php?pid=5448062&id=876205267
E:  Galleria, Cineplex Odeon, Westwood or Century City AMC?

M:  Galleria.
E:  Coolest famous person you met as a child:

M:  Michael Jackson
E:  High School car:

M:  BMW.
---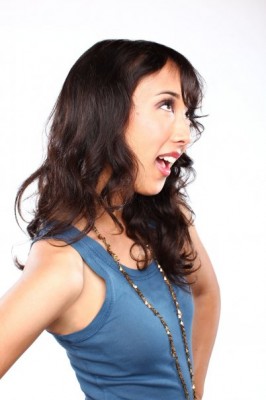 E:  What was on your mixed tape as a senior?
M:  Chaka Khan, Bell Biv Devoe, Bangles, SWV, Beatles, Jodeci, Stevie Wonder, Tribe Called Quest, Madonna, Al B Sure, Peter Gabriel, Biggie, Elton John, Mary J. Blige, Tiffany, Michael Jackson, Steely Dan.  And musicals.
E:  Favorite karaoke song?  Favorite karaoke partner?
M:  "I've Had The Time Of My Life" from "Dirty Dancing".  I make (key word: "make") my husband, Jed, sing that with me.
E:  Which designer would you have worn to prom?  Who would have styled you?
M:  Betsey Johnson.  My fashion-savvy friends would've styled me.
E:  How to you get around writer's block?
M:  I used to think that cigarettes would snap me out of writer's block but that was just me trying to romanticize my life as a "tortured artist".  Big mistake.  Lupus and smoking – not a good combo.  These days I'll clean the house or reorganize my closet when a block happens.  I find when I occupy my brain with a completely different activity, the random idea I needed for the script finally pops up.  But the best thing to do is keep writing.  Even if it's total crap and full of nonsequiturs.  At the very least, there might be a kernel of something that is salvageable.  And all of the above is just code for – I make my husband write it.
E:  If you could pick one discipline, which would it be?  Dancing?  Singing? Writing?  Acting?
M:  Dancing.  Definitely.  Though as the years pass, my bones tend to prefer the writing.
E:  Favorite website:
E:  What is the worst/best thing you found of yourself on the internet?
M:  Reading harsh criticism on the internet is never uplifting.  I think there's a sort of impulse to justify our own self-loathing when we scour the internet for reviews on our work.  Yes, there's positive feedback, but it's those few stinging comments that stick and fester and send you into the shame spiral you were subconsciously searching for in the first place.  I've been told (and have told others) to stay off the internet!  But we're all gluttons for punishment I guess.
But then there are little gems like this : http://www.youtube.com/watch?v=uGA8ABLseNY
Hockinson High School put together their own production of "Dr. Horrible's Sing-Along Blog", and the cast and crew sent us a congratulations video the day Jed and I got married.  Very sweet.…….
Now, follow Maurissa and have her show you the way.
http://twitter.com/motancharoen
---