Prophets of Rage is the newly formed American rap-rock-metal force of revolutionary musicians consisting of three members of Rage Against the Machine (Tom Morello, Brad Wilk, Tim Commerford), two members of Public Enemy (Chuck D and DJ Lord) — and rapper B-Real of Cypress Hill.  The band is a posse of socially and politically kinetic like minded musicians. They are raged and rocked and hip hopped for their like minded audience in last night's musical political rally at The Forum (Los Angeles).  The Prophets of Rage concert was wild and intense and reinvigorating — and not a soul left The Forum unchanged.
PROPHETS OF RAGE :: MAKING AMERICA RAGE AGAIN
I haven't been in a mosh pit since I saw Rage Against the Machine at Berkeley Square. I was a teen many moons ago. Also, I got trampled to the ground and all 5'4″ of me couldn't make my way back up for air.  Some security guy pulled me and saved me — and I never stepped foot in a mosh pit again.  (Except for a Beasties show 5-10 years after that.)  And I haven't had the urge until last night.
---
[adsenseyu2]
---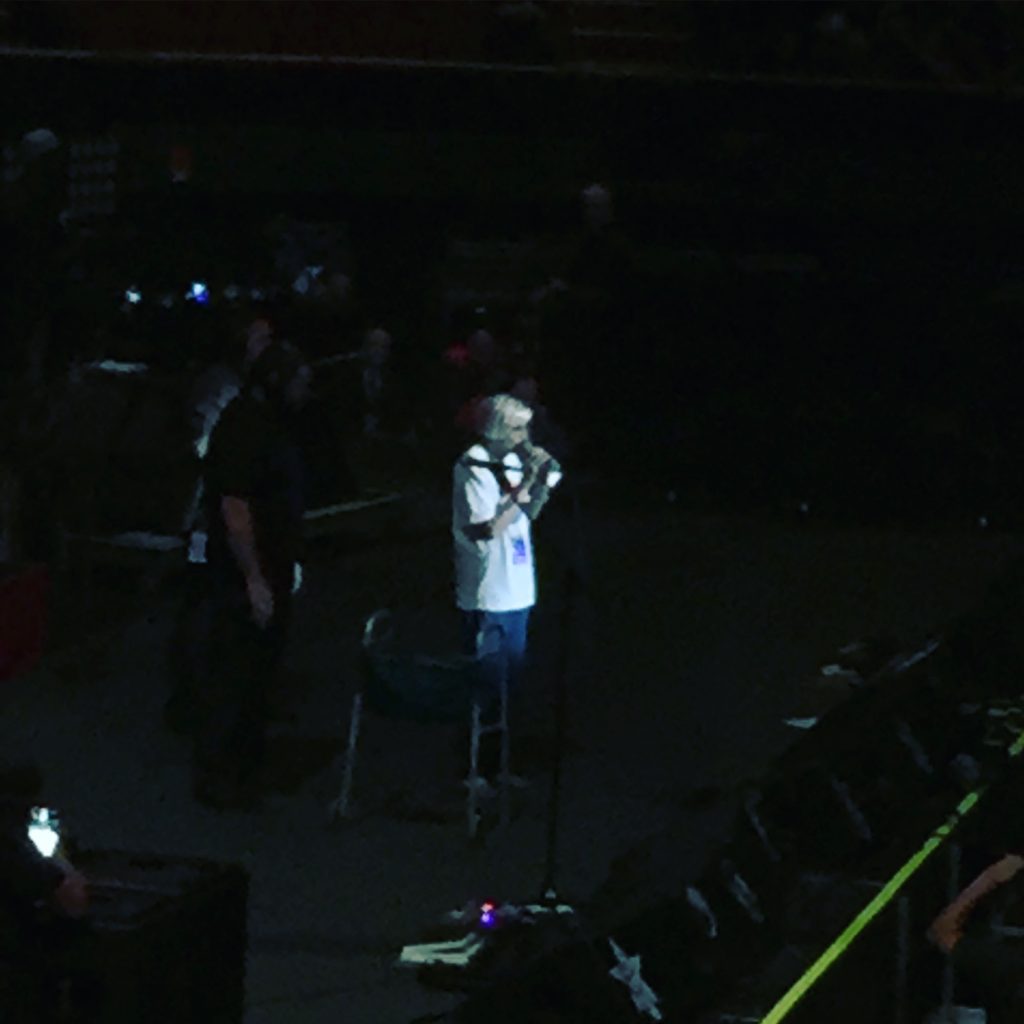 The night was kicked off by activist and former schoolteacher Mary Morello, a cool, progressive pioneer of a woman. She happens to be Tom Morello's 92 year old mom. Also, she set the tone of the night by walking up to the mic and greeting the audience and introducing the band as "The best fucking band in the universe!" That in itself was a tough act to follow.  But the band managed — and did so a million fold.
The show was reminiscent of the testosteronic, high octane, politically charged and musically fueled days of the intimate Axis of Justice shows at the Hotel Cafe years ago. But now the gifted loud riffs are democratized to the mass – playing to a full house at the Forum.  Solidarity was manifested last night, adrenaline was pumped — and now we're all ready, set and going to make America rage again!
---
http://www.youtube.com/watch?v=aSVG-x-Vx90
---
The Set
It was a ridiculous and sonically Utopian night with reliable classics. These include the "Guerrilla Radio," "Killing in the Name," "No Sleep Til Brooklyn," and "Take the Power Back" pumping our brains and navigating our veins.
---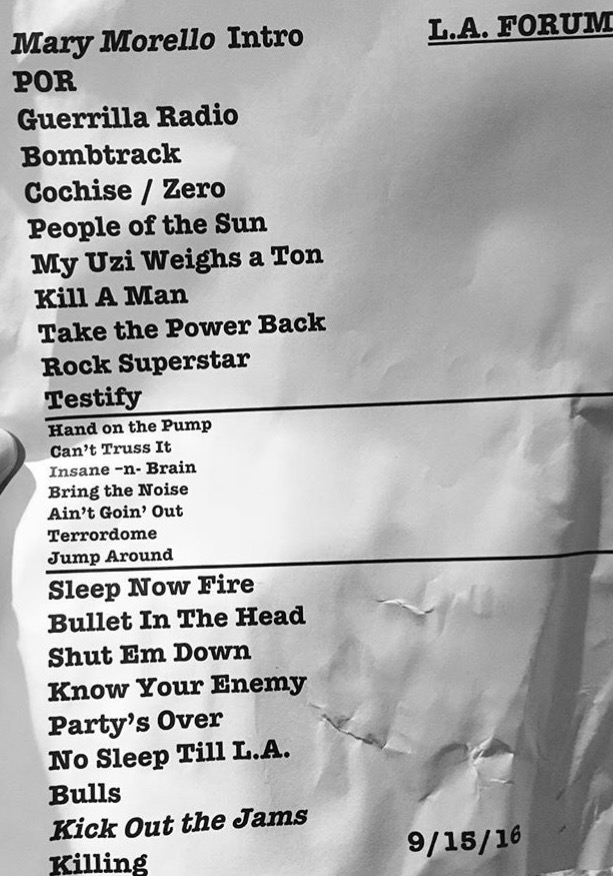 ---
Catch them if you haven't already.  The tour ends next month.  Here's to Prophets of Rage and all the Americans who heed their words.
---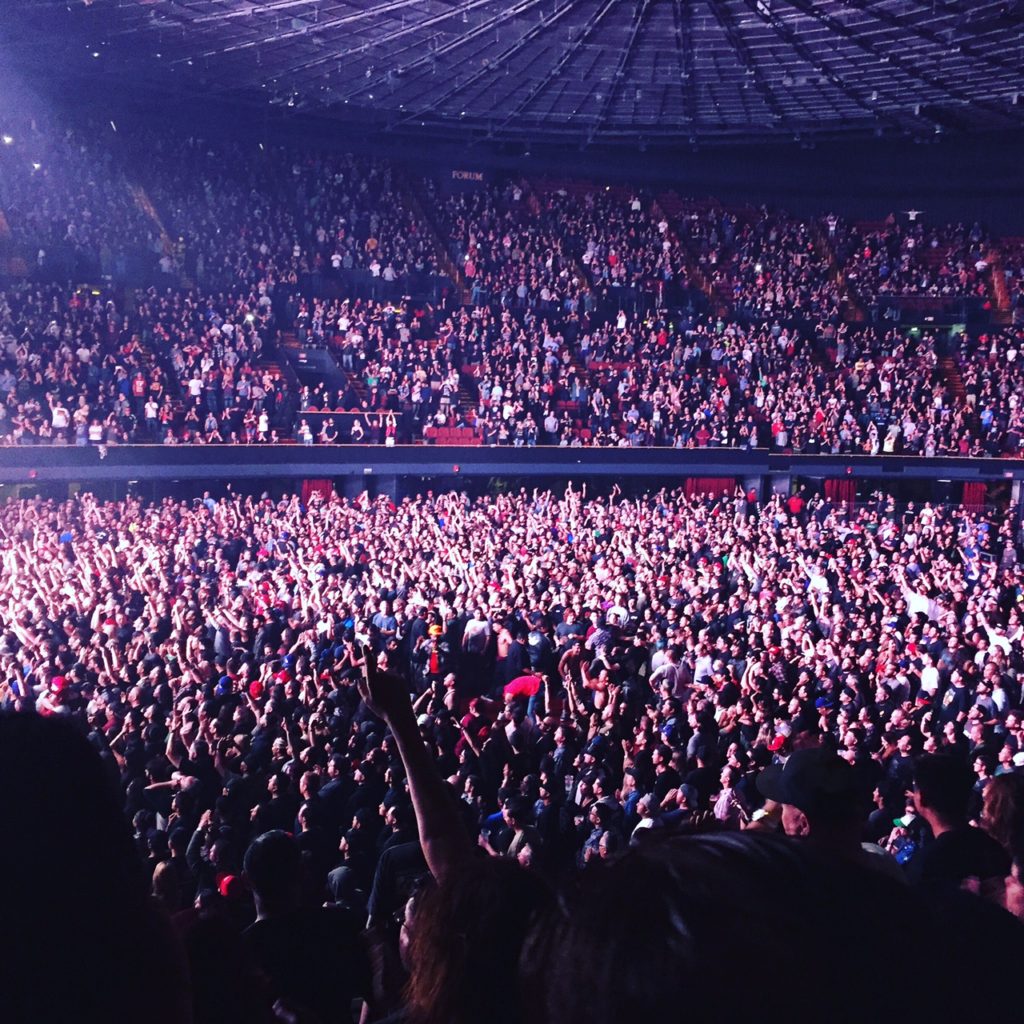 ---
+++ Featured photo courtesy of Tom Morello
+++ AND STAY TUNED READERS:  Coming up on the blog are interviews with ARIANNA HUFFINGTON AND THE AWESOME, GORGEOUS + HILARIOUS MOON ZAPPA.