The award-winning health and wellness supplement line, SeabuckWonders just launched a new Enhydro line of serums of three soothing and nourishing face oils. I am enthralled!
Sea Buckthorn oil is creating a splash in the wellness world because of its over 190 total bioactive nutrients. Their magical gifts include fighting dryness with omega-7 to supporting overall health with plant-based omega-3.
---
The plant has a large number of active ingredients the properties of which are successfully used in the cosmetic industry and in medicine. Valuable substances contained in sea-buckthorn oil play an important role in the proper functioning of the human body and give skin a beautiful and healthy appearance. A balanced composition of fatty acids give the number of vitamins or their range in this oil and explains its frequent use in cosmetic products for the care of dry, flaky or rapidly aging skin. – NIH
---
With so much beauty enrichment and nutrient density, it's no wonder the ancient Tibetans calls it "Liquid Gold."
---
For over 20 years, we've been producing only the highest quality,100% pure Himalayan sea buckthorn oil products known in the world. Our Enhydro line starts with this very same organic sea buckthorn oil, but is blended with rich, wildcrafted plant based oils including rose hip, olive squalane, moringa, tea seed oil and several others that provide extra layers of effectiveness and breakthrough benefits that complement any skincare regimen. – Maggie Qiu, Director of Marketing
---
Sea buckthorn contains Omegas 3, 7, 6 & 9, plus natural vitamin E!
SeabuckWonders Enhydro Serums
Enhydro Quartz gets its name because the crystal drops encapsulate ancient water. Their hydration-centric line of oil serums is inspired by the moisture encapsulating qualities of this alluring Tibetan crystal.
So using the rich fatty acid complex from Tibetan sea buckthorn berries, they created the perfect serum solution for many different skin types. So below are their varieties of oil! I love them all but my fave is the ENHYDRO REVIVE OIL SERUM – the gorgeous one in the black bottle.
GLOW SeabuckWonders Enhydro Serums
This light-weight, natural oil traps moisture within the skin. Seaberry seed, camellia and rosehip oil hydrate and support the cell walls within the skin. It nourishes dry skin with a rich supply of nutrients from cosmetic grade avocado and sweet almond oil.
---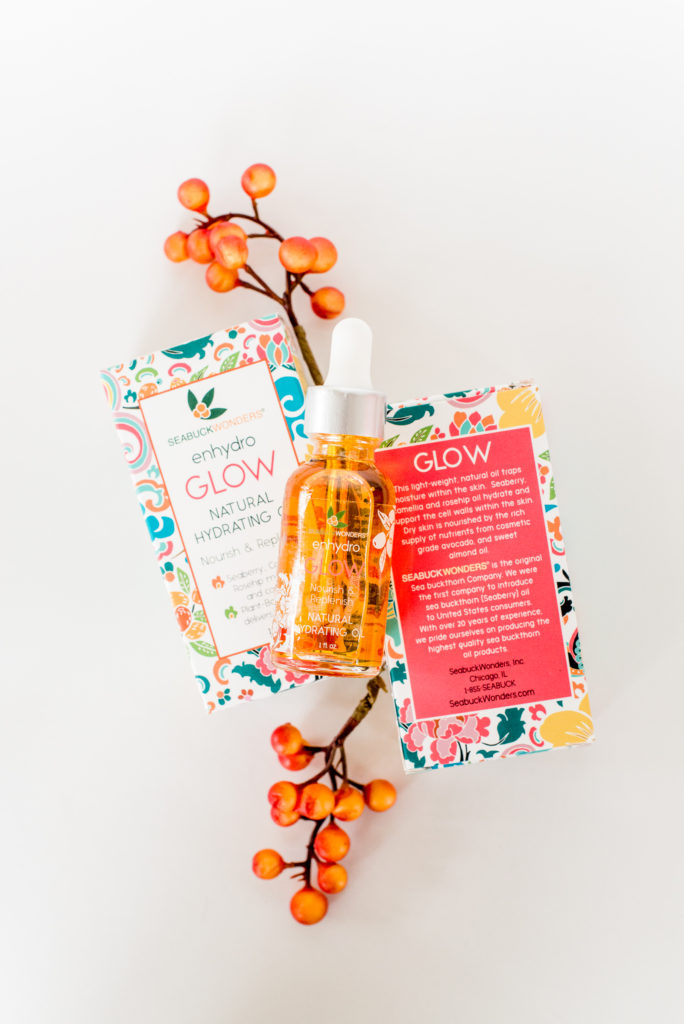 ---
CALM
This reparative oil helps to soothe and nourish sensitive skin with the richest calming ingredients nature can offer. For instance, seaberry seed-based omega 3, sunflower oil, olive squalane, and rosehip. Although Calm is lightweight, it is a bit more concentrated due to the olive squalane (which was chosen instead of coconut oil which can cause allergic reactions). Lavender and apricot kernel also help support balanced oil production and restore peace for irritable skin.
---

---
REVIVE
This gorgeous one in the black bottle is my all-time favorite.
The antioxidant complex revives skin with anthocyanin-rich sea buckthorn seed oil, vitamin C rich moringa oil and vitamin A from rosehip. The exotic Frankincense provides the woodsy scent, which is also tightening, strengthens, tones and improves the elasticity in aging skin. Moreover, the oil-soluble qualities of L-Asorbyl Palmitate penetrate deeply without emulsifiers or chemicals. So Revive is perfect for mature skin and skin showing signs of aging. In addition, this oil serum works best on normal to dry skin types.
No wonder I'm obsessed.
---

---
SEA BUCKTHORN OIL BENEFITS 
Seed Oil
Plant-based omega 3
Liver support
Cardiovascular support
Skin brightening
Immunity boost
Healthy inflammation response
Near 1:1 ratio of Omega-6 & Omega-3
Berry Oil
Omega 7
Better source of Omega 7 than fish
Cellular moisture/ dry cell conditions
Digestive support
Skin repair for cuts, wounds & burns
Vaginal health
Age-defying
---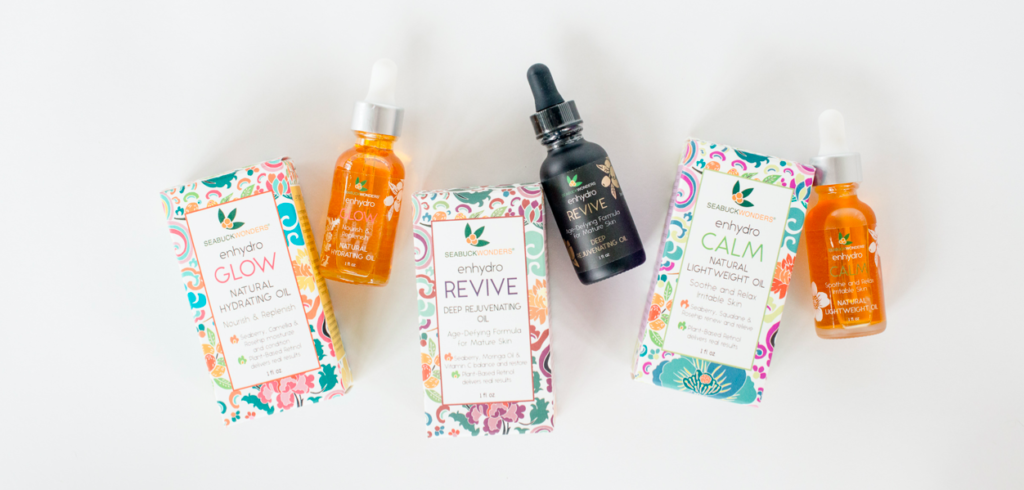 ---
The new Enhydro line products sell for under $40 per bottle and are currently available at https://www.seabuckwonders.com/collections/all. These products will soon be available on Amazon.
---
+++ Don't forget to go to my Instagram to enter my free giveaway. Ends July 2, 2020!
GIVEAWAY STEPS
1. Follow Me on Instagram @ladysir as well as my tribe
@stacycoxbeauty @seabuckwonders @romyraves @candywashington @jmelee1221 @balanced_babe
2. Tag a bestie in the comments!
3. Then I will pick one lucky winner to win a set of SeabuckWonders!! You can only win once, but feel free to tag different friends to boost your chances!
---
[adsenseyu1][adsenseyu2]