Grande Cosmetics has been a love of mine since I discovered their ridiculously effective lash growth serum way back when! (It's the only growth serum that works on my short Asian lashes that stick straight down!) This led me on a hunt to find that perfect mascara to accentuate the serum efforts. And there were a couple of semi-hits and a slew of misses. And then I found Grande Cosmetics GrandePRIMER (Pre-Mascara Lengthener & Thickener) and their super fab GrandeMascara. It's a duo that I can't go forego now.
GRANDE COSMETICS GrandePRIMER + GrandeMASCARA
The GrandePRIMER is the missing step in your lash routine that you never knew you needed! It may seem like an annoying extra step, but swipe a quick coat of primer on before your mascara. And then you're destined to have immediate thicker longer and stronger lashes! It's similar to the way primer quadruples the benefits of your favorite skin foundation.
HOW DOES PRIMER WORK?
GrandePRIMER allows for the perfect surface to which their GrandeMASCARA adheres. No more clumps and also no more damaged flaky lashes! It gives you that perfect lash separation as well as the hydration our lashes need!
GrandePRIMER is magically formulated with a blend of no-flake mini fibers and peptides — and it's smudge-proof, water-resistant, and – thank goodness, also suitable for contacts.
It's your and your mascara's new BFF.
GrandePRIMER KEY POINTS
Peptide infused formula for healthier-looking lashes

Smudge-proof, water-resistant formula

Helps to extend your mascara's wear and boosts its effects

Suitable for contacts

Goes on white

Ophthalmologist-tested

Made in Italy

Cruelty-free
RESULTS / CONCLUSION
In a consumer study using GrandePRIMER:
100% saw fuller, longer lashes
94% prefer lashes with primer
HOW TO USE GrandePRIMER
Sweep your GrandePRIMER brush from the lash base to the tips in an upward motion as you would mascara. Immediately apply mascara thereafter!
SPEAKING OF MASCARA
Would you ever use cheap, toxic makeup after giving your skincare routine your undivided attention? NO! This is exactly why you need the Golden Goose of mascaras, GrandeMASCARA, to follow your GrandePRIMER!
This chic mascara doesn't only coat and shellac your lashes in a gorgeous black hue. But it conditions your lashes while doing so!
In addition, it's infused with a lash-loving blend of peptides, panthenols, and natural waxes. And these key ingredients promote the appearance of healthier-looking lashes over time.
---
Its buildable, clump-free, water-resistant formula is easily removable to prevent lash breakage while keeping the lashes flexible and strong. The applicator brush is made with the perfect combination of hard and soft fibers to lift lashes and achieve ultimate volume. Ophthalmologist tested. Suitable for contacts and lash extensions. – Grande Cosmetics

---
HOW TO USE GrandeMASCARA
Coat the applicator and sweep brush from lash base to lash tips in an upward motion. Apply multiple coats for volume!
START FLAUNTING YOUR LASHES
It'll be your best couple of investments.
Primer: $25 at SEPHORA.
Mascara: $25 at SEPHORA or AMAZON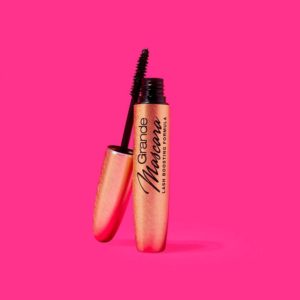 ++ Thanks for reading my post on GRANDE COSMETICS GRANDEPRIMER AND GRANDEMASCARA! Don't forget to check out my posts on Grande Cosmetics' Summer Bash as well as my review on their EYELASH GROWTH SERUM!