CLICK HERE AND PLEASE VOTE FOR THIS PIECE ON TODAY – PARENTING.  All you have to do is click on the words "VOTE UP!"
---
I've got 2 little girls, a full time job, a 60-90 minute commute, a husband to feed, a house to clean, a mother to care for, a black belt test with a looming date, a blog to update — and a couple writing projects on the side. But I get my 7-8 hours of sleep every single night! It's the only way I'm able to get all my things done.
---
To be productive and efficient with your time, I'm a firm believer that you should prioritize your zzzs. Everyone needs a thneed? No. Everyone needs their zzzs!
---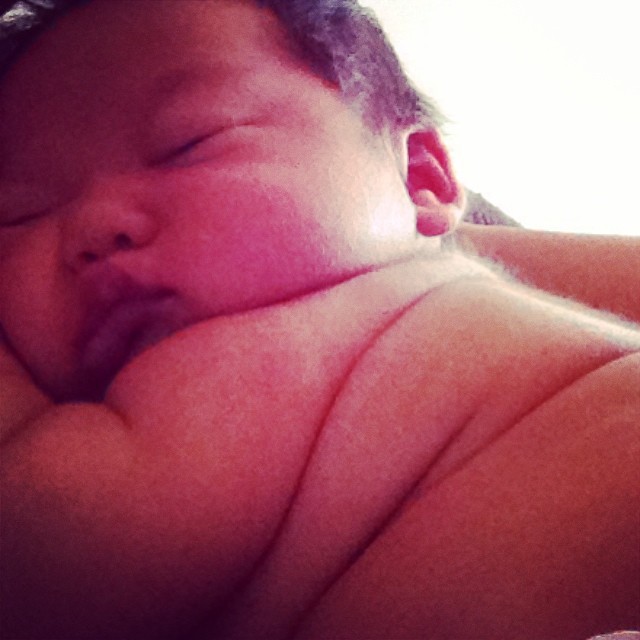 ---
GO TO ZZZleeep! | PARENTING SLEEP SOLUTIONS
These are the tricks that have worked for me!
FEED YOUR BABY'S BELLY. The more they're satiated and porked up, the longer they will sleep. I doubt many parents will argue with this. If you're still breastfeeding, it doesn't hurt to "top them off" and have them sleep feed before you hit the hay yourself. Extra mileage, I say! If the baby sleeps, you sleep.
STOP FEEDING YOURSELF AT LEAST 3 HOURS BEFORE BED. I'm not saying go to bed hungry. Just don't go to bed full. This way you won't suffer acid re-flux, bloating discomfort or brain fog when you wake up. I like to fill up with good healthy fats and low mercury fish at dinnertime! (Omega 3s in low mercury fish also provides the brain with fuel it needs to repair!) Yum and done!
EXERCISE AND HAVE YOUR COFFEE IN THE MORNING. No one needs to be jacked up and ready to take on the world hours before R.E.M.
ELIMINATE GLOWING SCREENS. This includes, cell phones, radio digital clocks, television sets and computers! And make your room pitch black!
MAGNESIUM. It's awesome and a natural relaxation mineral. Use it as a supplement and/or take Epsom salt baths!
LEAVE THE BABIES AND TODDLERS IN THEIR OWN BED. (This one is a super hard one for my husband and me — but one we are working on.) As fun and delicious as snuggling is, co-sleeping comes with the price of defending yourself nightly from drop kicks and jabs. Leave the cuddly karate choppers in their own nests.
---
Try 1 or 2 or 6 of these and let me know how it goes!
---
featured photo courtesy of Smitty Imaging Ltd.