KOREAN SEAWEED SOUP 
Bone broth is still all the rage these days — however my go-to miracle soup has always been Miyeokguk – Korean Seaweed soup.
It's super easy to to make — and it's nutritious and delicious (and brings good fortune) to boot!  Miyeokguk – Korean Seaweed Soup is a big part of the Korean cultural tradition.  Women have been known to eat vats of this during pregnancy — as well as immediately after giving birth as it stimulates breast milk production and overall health.  Korean students, too, are known to eat this up as it boosts brain power and kicks those scores up a notch!  
You devour it on the morning of your birthday since it's the food your mom ate on the day you were born.  (To this day, my mom still makes it for me (and my babies) every birthday morning!)  It's a reminder to be grateful of the care given to you by your mother.  (Lots of guilt in the Korean culture too!)
Seaweed is rich in iodine and calcium and delivers its promises – so it's no wonder that Koreans are drinking the Kool Aid.  My two girls love it and always ask my mom to make the Korean Seaweed Soup no matter the day or time.
This is how my mom and sister make it – ish.  (They don't measure anything — so they're guesstimations.)  
Enjoy!
---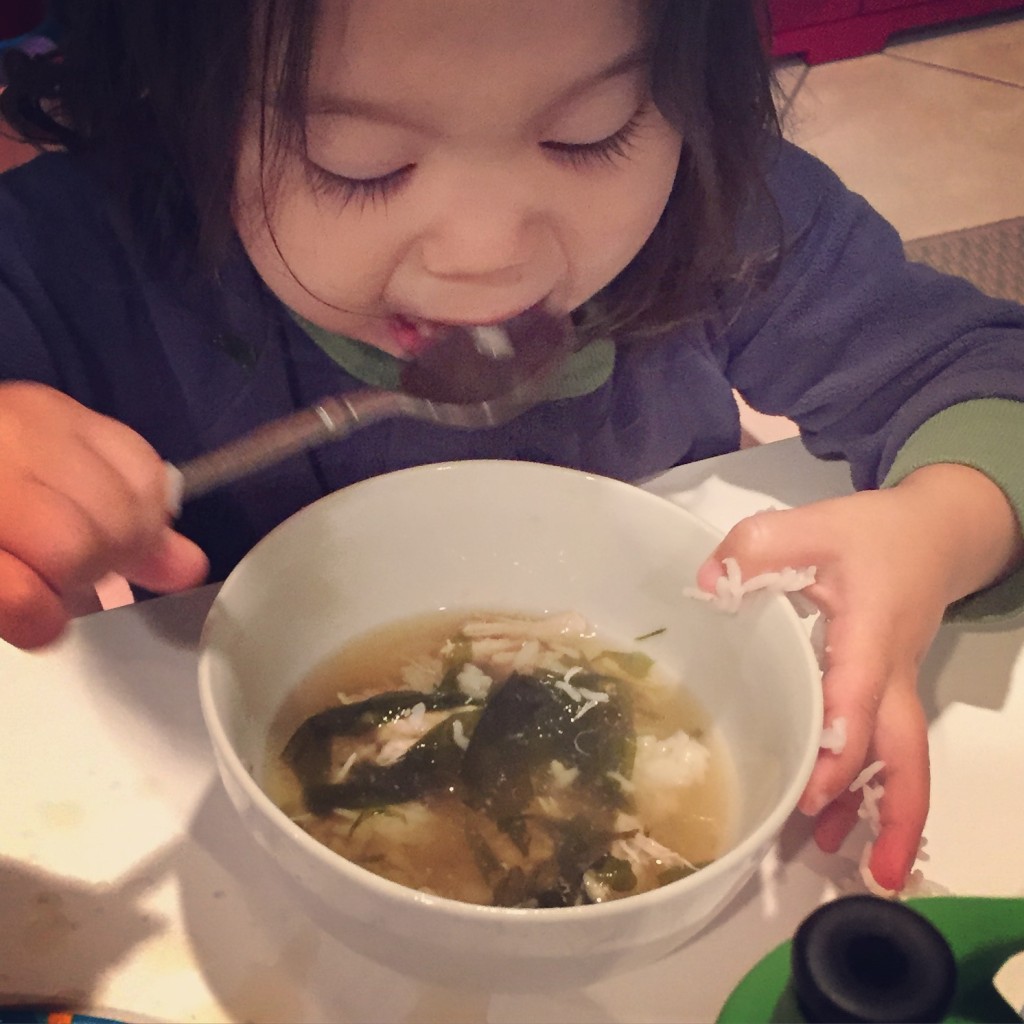 ---
INGREDIENTS

FOR KOREAN SEAWEED SOUP
1 cup of dried brown seaweed (which can be purchased at any Korean store)
1 lb. organic chicken with bone  (you can go without if you want a vegan version)
1-2 T of gook gan jang (which is Korean soy sauce with a strong, fermented salty flavor and comes from bean paste)  (you can use tamari sauce if you want a gluten free version)
6-7 cups of water
1 teaspoon minced garlic (or more per your preference)
---
DIRECTIONS

FOR KOREAN SEAWEED SOUP
Clean the seaweed and soak in water until soft.
---
Soak the 

seaweed

 for about 15 minutes.  (It expands into approximately 4 cups of 

seaweed

!)
Clean it well as it may have some sand in it.
Then drain and chop it so they're the size of your finger.
---
 Bring the chicken to boil.  Boil it long enough to make a tasty broth.
---
  Add garlic while boiling chicken.
Add a little bit of gook gan jang to the shredded chicken.  (You only need a little to flavor the meat.)
Then add gook gan jang to the broth (teaspoon by teaspoon to taste). You don't need too much.
Add seaweed to the broth.  Boil for a few minutes to soften and flavor the seaweed.
Get a bowl and ladle the broth and seaweed.  Add the seasoned chicken (that you set aside earlier) on top and sprinkle with roasted sesame seed.
CHAP SOO SAY YO! (ENJOY!)
---
Follow me on Instagram for more updates.