I've added a new one to the list of my favorite TV shows.  So now there's Modern Family, EMPIRE, Agents of S.H.I.E.L.D. — and now a new CAN'T MISS (!)  docu-series on LIFETIME (Go Go Luckey Entertainment)…THE JACKSONS: NEXT GENERATION.  This show centers around 3T (Taj, Taryll and TJ Jackson) and all the family (their kids, Poppa Tito, Grandma Jackson, Prince, Blanket, etc.) and all their friends.
I've been friends with these guys since I was 8 or 9 – and they've always been nothing less than generous, loving, loyal and kind.  Never an ego.  (Not even in choir (!) or on the baseball field.)  And always human.
---
[adsenseyu1]
---
Modesty and commitment to family and friends became their inevitable when reared by their two doting parents, Tito and Dee Dee Jackson – both of whom had simple priorities.  Family, friendships, PTA, Little League and Buckley baseball.  (Tito played a sold out, late night JACKSON 5 VICTORY TOUR concert at DODGERS STADIUM — and still managed to rise early the following morning to coach Little League.)
And that's what makes this show a hit.  It's a show about family, parenting, multitasking, marriage, internal struggles, career, perseverance, heartache, insecurities and vulnerability.  It's all heart and something that we can all relate to.  It makes us laugh, it makes us uncomfortable, it makes us cry.  But what's most important to all of us viewers…is that it's SUPER FUN, entertaining and voyeuristic too!
SO TUNE IN TONIGHT (FRIDAY) and EVERY FRIDAY.  10:00 PM (PST) on LIFETIME!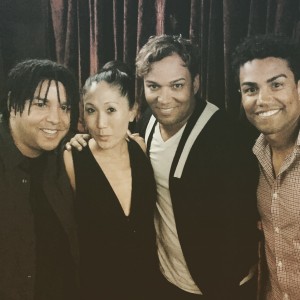 ---
[adsenseyu2]