You know how I love my serums — and I just fell in love with a new one and it's no spring fling!
SERUMKIND is a gorgeous new vegan and cruelty-free skincare line that recently hit the market — and I'm obsessed! They focus on potent single-care formulas made from clean and rare ingredients sourced internationally.
You can just go and glow without using a million products in your skincare routine. I especially need this sort of efficiency during these Quarantine days since I am so exhausted from the cabin fever, working from home and homeschooling. I love that I can still beautify myself and practice self-care without sitting in front of the mirror for an hour. Who has time for that?
(I guess I'm not the only one on to this new brand. They recently won the ALLURE KOREA AWARD 2020!)
SERUMKIND YOUTH & GLOW 
This gorgeous glittery and translucent bottle is an energizing serum, packed with Vitamin E and Vitamin C. It features oil capsules of Lithospermum roots and berries from Sea Buckthorn. The texture is so ridiculously amazing and delicious and provides you with the perfect canvas for your sunscreen and foundation.
And some fun deets: Lithospermum erythrorhizon grows deep in the mountains of Korea. So this red oil contains Shikonin, which has been extracted patiently through a five-year fermenting process.
Sea Buckthorn (which is getting super trendy these days, and for good reason!) is a very powerful ingredient, containing three times more Vitamin C than a lemon.
30 ml for $49 at Completone.com.
---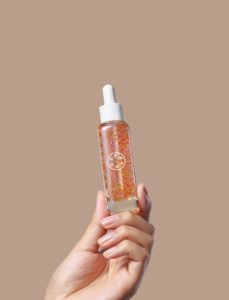 ---
SERUMKIND BLACK BLOSSOM 
I like to use Serumkind's Black Blossom after the Serumkind Youth & Glow – but you can also use it alone as a mask. It's so powerful and purifying!
Moreover, the Serumkind Black Blossom serum features 10,000 ppm of the highly concentrated powder extracted from the Netherland's Black Tulip, which repairs the skin barrier, brightens the skin and says adios to wrinkles (by boosting collagen!).
30 ml for $53 at Completone.com
---

---
+ There are so many options these days to choose from – it can become overwhelming. But I am so thankful I crossed paths with this new skincare line. It is made in Korea, the end all be all powerhouse of beauty secrets — and it delivers everything it promises. The packaging is divine and its age-defying magical contents even more so.
++ Thank you for reading! Stay safe and stay gorgeous. 
Love, e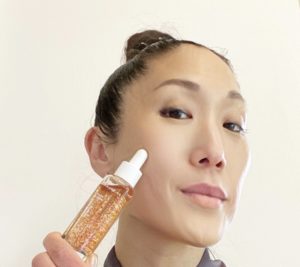 ---
[adsenseyu1][adsenseyu2]