Who doesn't love the holidays; you get to spend time with your family and friends, eat until you can't anymore and give everyone gifts! It's a magical time of the year. However, we can all admit that the holidays get stressful. Cooking for people in your home, shopping for everyone on your list and any amount travel can add to the already stressful few weeks. I have comprised a list to help ease the most stressful part of the holidays – spending time and money shopping.
---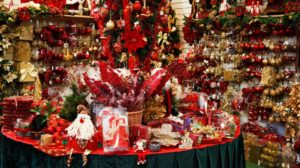 [adsenseyu1]
---
Ways To Ease Holiday Shopping Stress
Make Lists and Plan Ahead
 Yes, you still have time to plan who to shop for and what to buy, and making lists is proven to ease anxiety. Write down on paper who you need to shop for with gift ideas next to their name. Then, rank them by importance, amount of money expected to be spent or by who you're buying the most items for. Staying organized is key to help you staying stress-free!
Head To The Shops With A Friend
After Black Friday, no matter when you head to the mall, it's going to be busy. To make the day more fun and exciting, invite friends and use this time to catch up and hang out. Again, utilize a list to know exactly which shops you need to hit and stick to it to avoid buyer's remorse! Then, you and your friend can get lunch after a hard day's work on shopping. Before you know, hours will have passed, your list will be complete and you will have caught up with a friend! That sounds like a way I'd love to spend a day, not getting trampled alone at the mall trying to snag doorbuster sales.
Find Unique Ways To Save Money
Maybe you have a large group of siblings to shop for, or even extended family or employees. Sometimes the number of people you need to buy gifts for adds up quickly! Suggesting a Secret Santa gift exchange is a great way to save time and money, I don't think a single person will complain about that. You will be buying for one person instead of five or ten! Head to Elfster.com to invite everyone in your exchange, make wishlists and shop for one another.
Bulk ordering gifts is another great way to save money and time, by making a purchase for multiple people in a moment. If you are shopping for your employees, gift them high-quality sunglasses for them to rock all year round. Or if you have a lot of grandkids, look into bulk ordering candles, jewelry or even toys and trinkets on sites like Etsy.
Self-Care After
After the holidays it's important to take time for yourself to help recover from any stress. This can be as simple as hopping right back into your gym routine. Whatever it is, make sure you can refresh after the holidays but before getting back to work. Look on Groupon for discounts on spa packages for yourself and a friend (this certificate can even double as their gift!) or a dinner special for you and your spouse. What a great way to catch up intimately after a busy few weeks!
As charming and magical as the holidays are, unfortunately, they aren't a stress-free time of year. Use these tips to help relieve the stress surrounded by holiday shopping! What other ways can you reduce holiday-related stress? Maybe there's stress around cooking, traveling or even just gathering with your extended family. Let me know!
---
[adsenseyu2][adsenseyu1]