SKINTUITION INFRARED SAUNA
Many many-a-times, I've sung the praises of the majestic infrared sauna, one of my top anti-aging SEOUL SECRETS. And if you're a wellness nut like me, it's likely you're already familiar with this latest trend. The benefits are endless (from detoxification and pain relief  — to skin rejuvenation and weight loss) and the euphoria is infinite. I worship my half infrared sauna which I've blogged about before — and I, too, have loved my experiences in sauna pods in wellness centers across LA. But I just relished in a full-body SWEAT BY SKINTUITION infrared sauna experience in a full-size CLEARLIGHT box in the SFV. And holy moly! Now I either need one of their beautiful units in my own home– or I need to make these visits to SKINTUITION recurrent in the iCal. It's like I'm wearing glasses for the first time.
---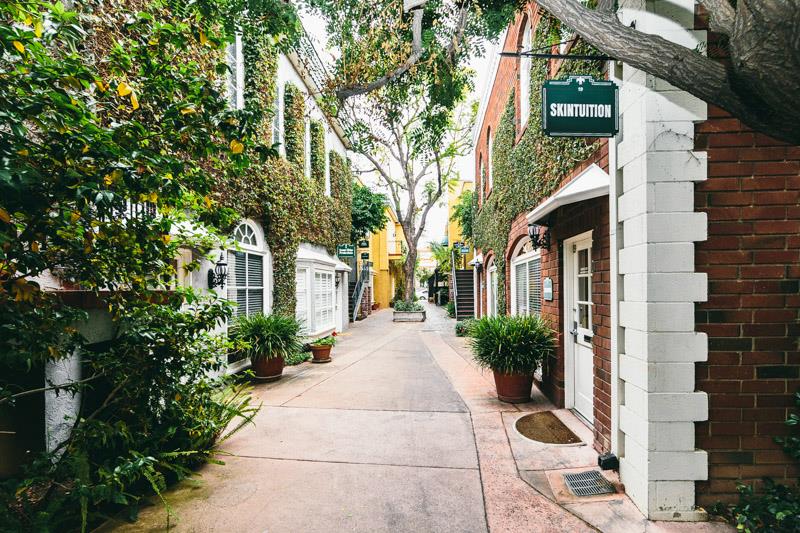 This health haven is delicately hidden in the French Quarter area of Woodland Hills. You walk through a quaint ivy path and land in a serene green spa that offers massages, facials, infrared wraps and a variety of health offerings (ear coning, colon hydrotherapy and so on). And of course, you're greeted by a gorgeous silky haired 20 something woman who exudes health, wellness and longevity.
(I don't know what took me so long to find them. I looked them up when I got home — and their Yelp page is pretty ridiculous.)
---
EXPERIENCE THE HOTTEST TREND OF INFRARED SAUNAS :: AT SWEAT BY SKINTUITION
The pros of this hot trend have been hitting the media over the past couple years since celebs like Jennifer Aniston, Lady Gaga, Leo and Goop lady Gwynnie have been singing its praises.
I guess the magic behind these infrared saunas (vs. the traditional dry saunas you find in gyms) is that the rays heat your body and organs, rather than the surrounding air. The room is about 120 – 220 degrees (I went up to 144) but because 80% of the heat goes directly into your body (and only 20% into the air), you don't feel any  skin dehydration or that hot air suffocation sensation.
---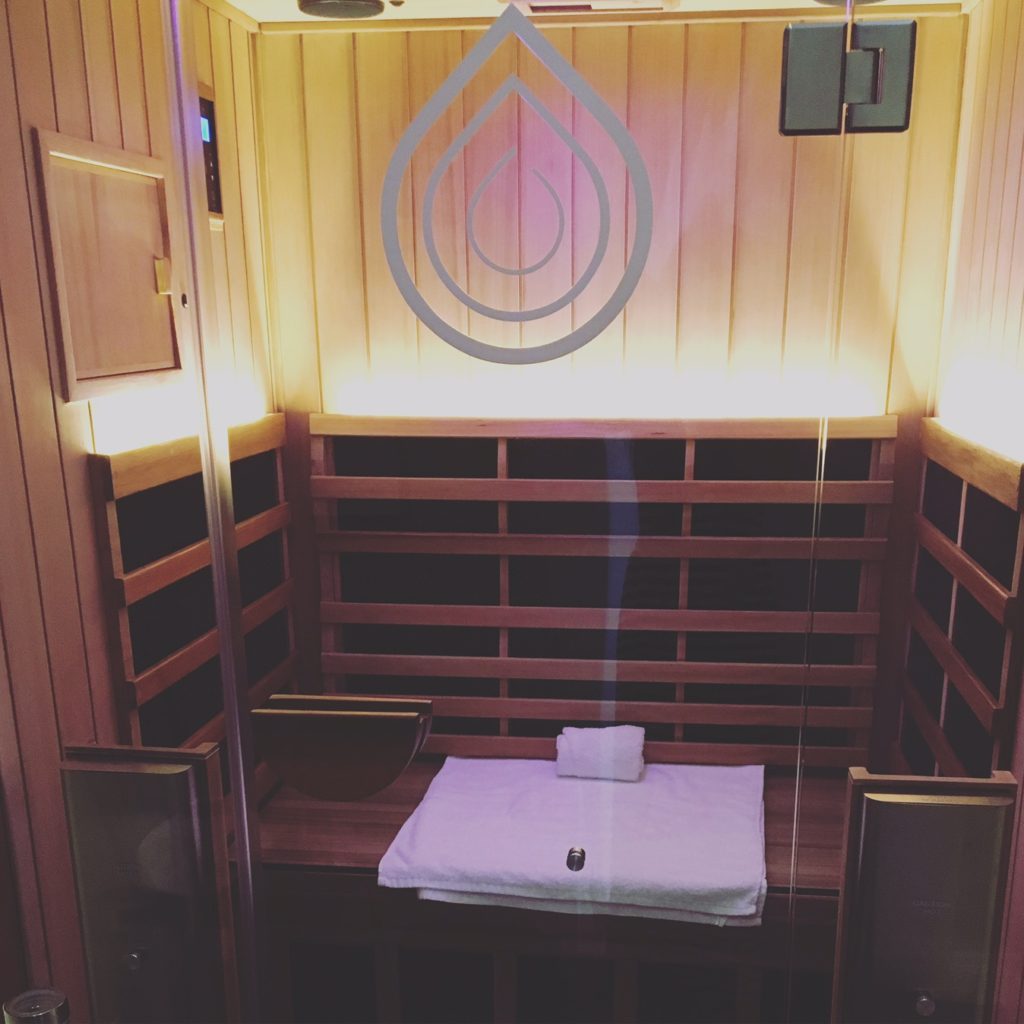 ---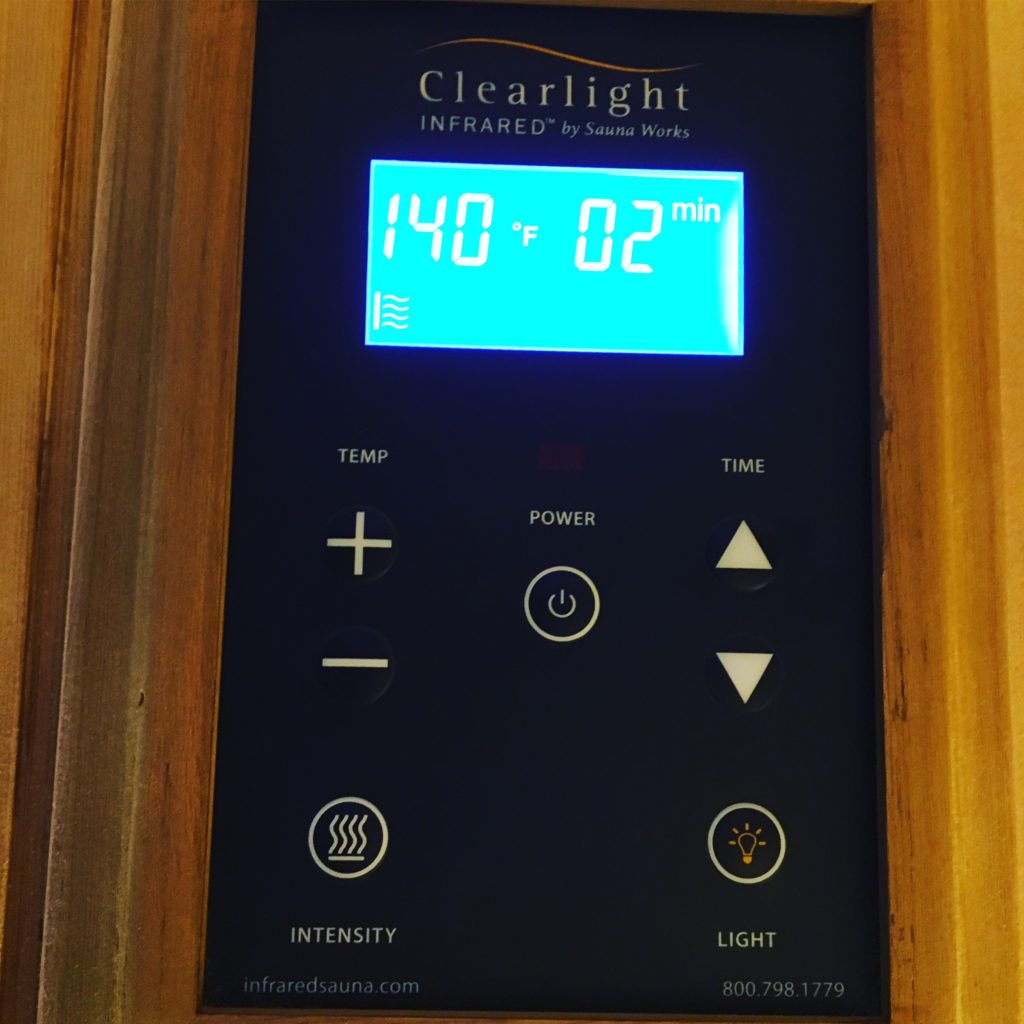 ---
[adsenseyu5]
---
I have a pretty intense martial arts practice — and this has been the only thing that has been able to lift the aches and pains. (And I do acupuncture, yoga, pilates, massages. In sum, I drink all the Kool Aid.) The radiant heat penetrates deeply into your joints, muscles and tissues – improving circulation and boosting oxygen flow.
I sweat bullets. Pails. And it felt so f…… awesome.
They gave me a tall glass bottle filled with thirst quenching fruit-infused alkaline water — and then I got to choose two Osmosis Harmonized Waters to add to it. (I chose their Environmental Protection and Digestive Health water therapies.)
---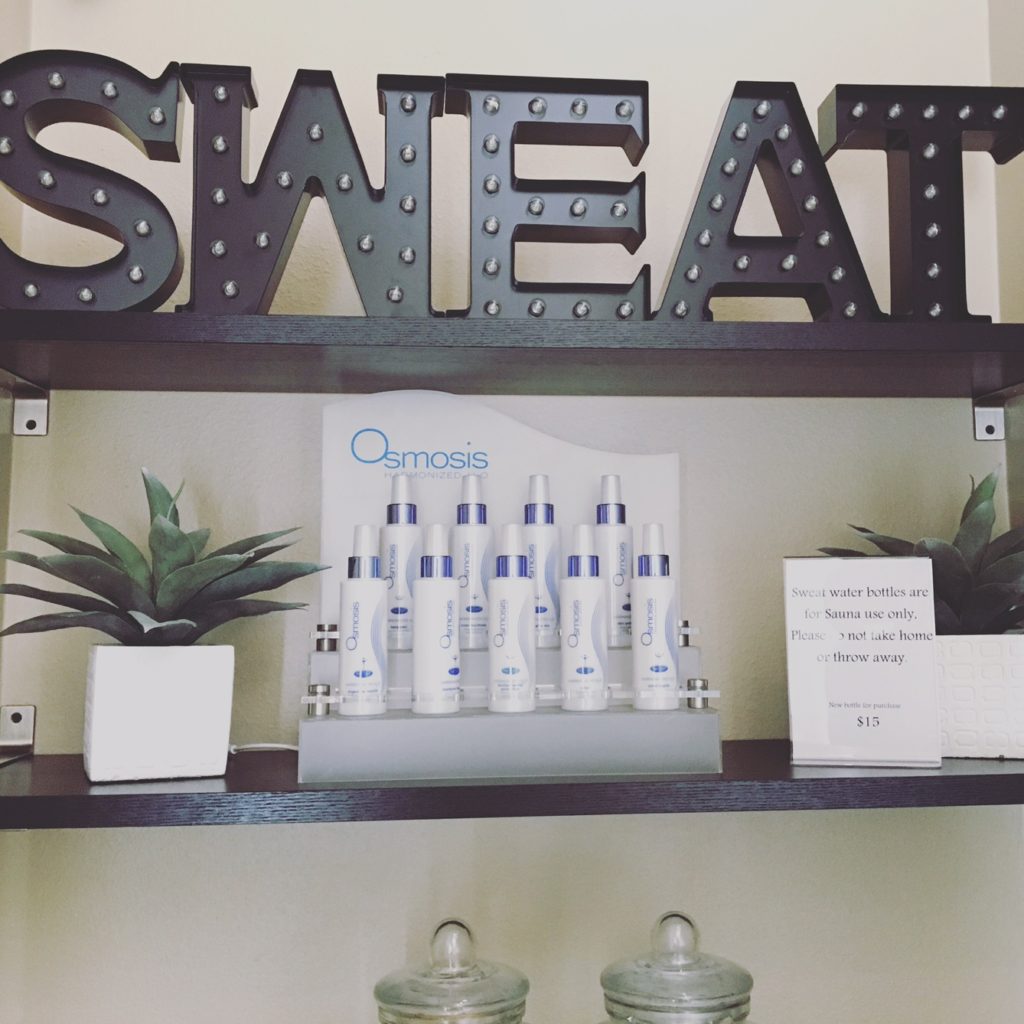 ---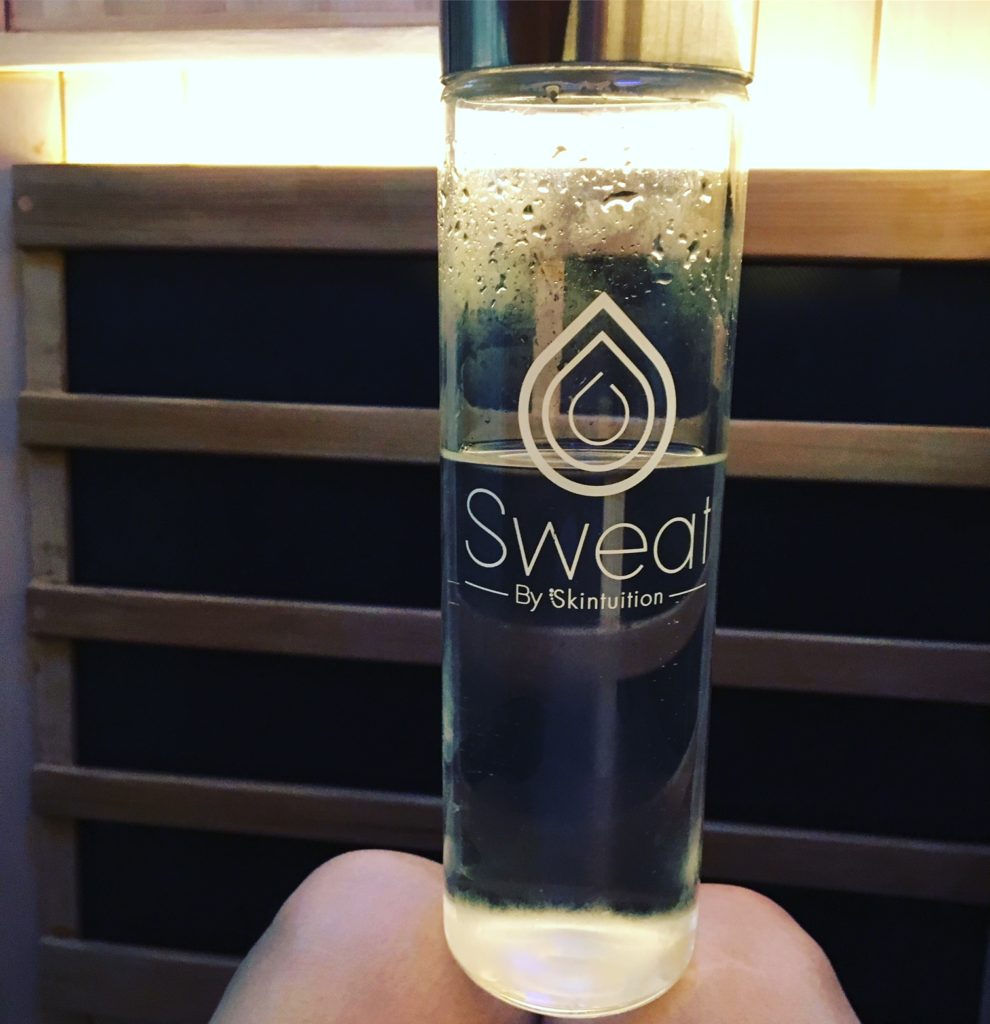 ---
I sipped my water, turned on my tunes (you can attach your iPhone/iPad to their sound system), kicked my feet up and laaaaaid back.
---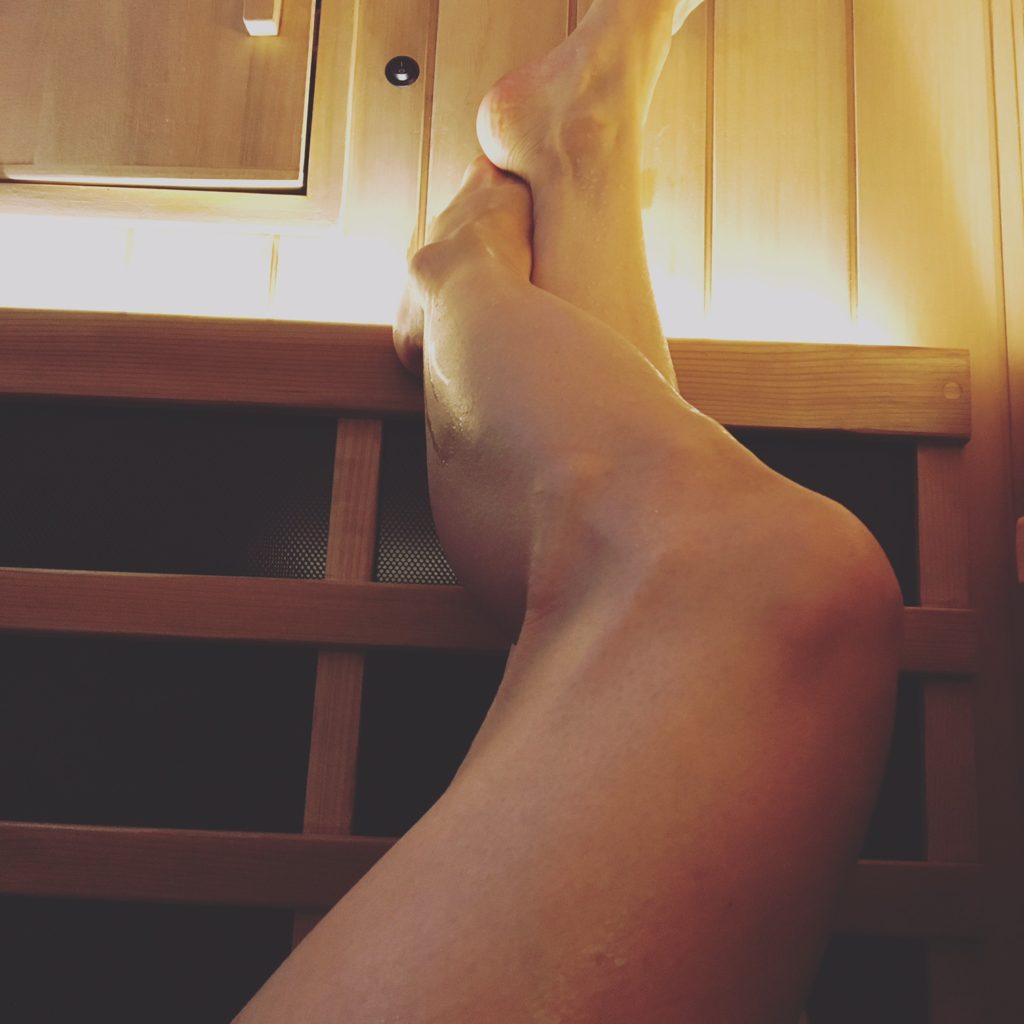 ---
AFTER INFRARED SAUNAS :: AT SWEAT BY SKINTUITION
When you come out, you look like you jumped out of the pool. You're drenched! Clean up with fresh towels and a eucalyptus infused cloth and you're golden.
I arrived home and scrubbed myself down with my SALUX wash cloth (another fave SEOUL SECRET) which I buy at the KOREAN MARKET, gave myself what my kids call a SMURF facial (aka my luxuriating SCHIQUE mask ), prettied up with some moisturizer and makeup – and then skipped out to a family wedding. My skin was smooth and dewy. Also, my body was de-puffed and pain free  — leaving me lean and mean in my skin-tight dress.
Meet you there?
---
+++ READERS: CHECK OUT MY INTERVIEWS WITH FORMER FACEBOOK EXEC AND CURRENT LEADERSHIP COACH AND FOUNDER OF DBSTYLE, DEBRA BEDNAR-CLARK — AS WELL AS MY INTERVIEW WITH DR. ATHENA PERRAKIS, FOUNDER OF SAGE GODDESS, THE WORLD'S LARGEST SOURCE OF SACRED TOOLS AND METAPHYSICAL EDUCATION. THESE WILL BE MUST-READS FOR ALL OF US TRYING TO MAKE POSITIVE SHIFTS IN OUR LIVES.