BEAUTY BENEFITS OF BLACK CUMIN SEED OIL
There are so many serums out there on the market — and I've tried them all! But I've filtered out all the ineffective ones and leave only the best of the best skin arsenal on my vanity table. For my morning serum, I use either my Joyce Giraud Miracle Elixir or Better Skin Co.'s Vitamin C Serum. Then at night, I have been using Zaman Skincare's Black Cumin Seed Oil Serum! It's truly regenerative and my newfound secret – but I guess an old ancient beauty secret from the Middle East. And if you haven't been able to tell, I'm all about finding the best secrets from various areas of our world – whether it's K-beauty, African beauty, Puerto Rican beauty, and so on. Recently, I have discovered that the beauty benefits of Pakistan's black cumin seed oil are neverending.
And no, not that cumin seed. Cumin Seed Oil is totally different from the cumin you cook with, but rather it comes from a plant called Nigella Sativa. It is anti-inflammatory, antibacterial (adios zits!) and heals acne and acne lesions.
---

---
ZAMAN SKINCARE
ZAMAN Skincare is the brand of the black seed cumin seed oil that seems to be the one that seals the creases around my eyes and lips/mouth the best! And it makes sense as it was founded by celebrity makeup artist, Aneela Zaman who knows more than anyone how beautiful and smooth skin is required in order to get that perfect canvas for a beautiful face. Her mission when developing this product was to maintain the radiance and elasticity from our youthful skin well into our later years.
It contains Vitamins A, B1, and B2, Niacin, Folacin, Calcium, Zinc, Iron, Copper and Phosphorous. And the chemistry of these ingredients have materialized into three things for me:
Skin plumpness and elasticity.
Reduction of fine lines.
Improvement in the appearance of pores.
And thank goodness.
Remember: the skin is the last organ in the body to receive any nutrients we take internally, so it's important to supplement topically with skincare.
You're so welcome.
Available for $80 on Zamanskincare.com, Amazon.com and Ahalife.com.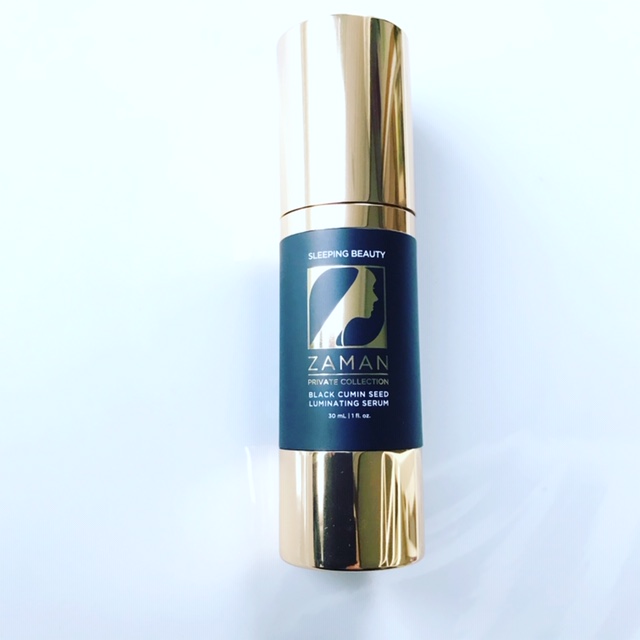 ---
[adsenseyu1][adsenseyu2]