CAIRE BEAUTY is the answer to anti-aging – where skincare meets tomorrow's STEM science! Created by two longtime beauty industry veterans, women of color and brilliant Wharton grads (Lorrie King and Celeste Lee), Caire is the pioneer in hormone defying skincare. Caire strategically incorporates the ramifications of hormone decline and menopause in women 40 and up (although anyone 35+ can reap the benefits!).
---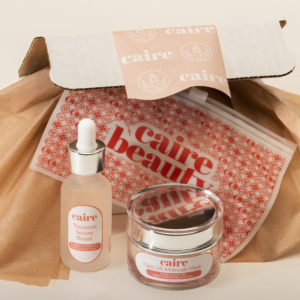 ---
Yes, we all need our sunscreen,
hats
and religious
skincare
regimen – but, don't forget the significance hormones play. We hear about hot flashes and mood swings, but did you know that pre-menopause and menopause are the
prime culprits
in collagen loss, skin/hair thinning, skin wrinkling and loosening?
---
Caire's Ph.D. designed formulation consists of science-backed bio-nutritive ingredients including a triple blend of
Hyaluronic Acid
that travels deep beneath the skin's surface to help women build back firmness and glow in their complexion. I have been using it and I have been loving what I'm seeing.
---
[The NIH's] critical analysis evidenced that application/administration of HA exhibits outstanding nutricosmetic efficacy and thus is warranted to be used as a prime component of cosmetic products. – NIH
---
These skincare heroines are designed to be used as a duo – meaning the sum is greater than the parts. This set will make your face look brighter, dewier and gorgeously lifted, without needles or puffy effects.
$99.95 at Cairebeauty.com
---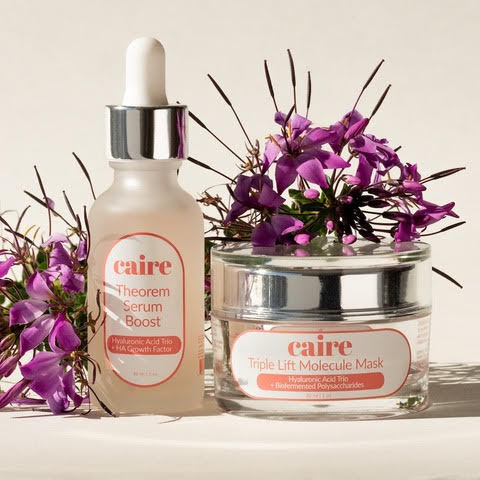 This is now my favorite HA! The Therom Serum Boost infuses your skin layers with Caire's Ultra Low Weight HA molecules (3 to 10 kDAs in weight) which are the tiniest on the market. Additionally, the unique HA Complex includes a Growth Factor Peptide which naturally encourages a woman's body to 'turn on' the latent HA molecules in her skin. The bonus is that this Theorem Serum Boost can improve skin firmness up to 200% in 28 days.
I loved it the FIRST time I put it on. And now I'm hooked and need 20 other bottles for my neck, back of hands, everywhere!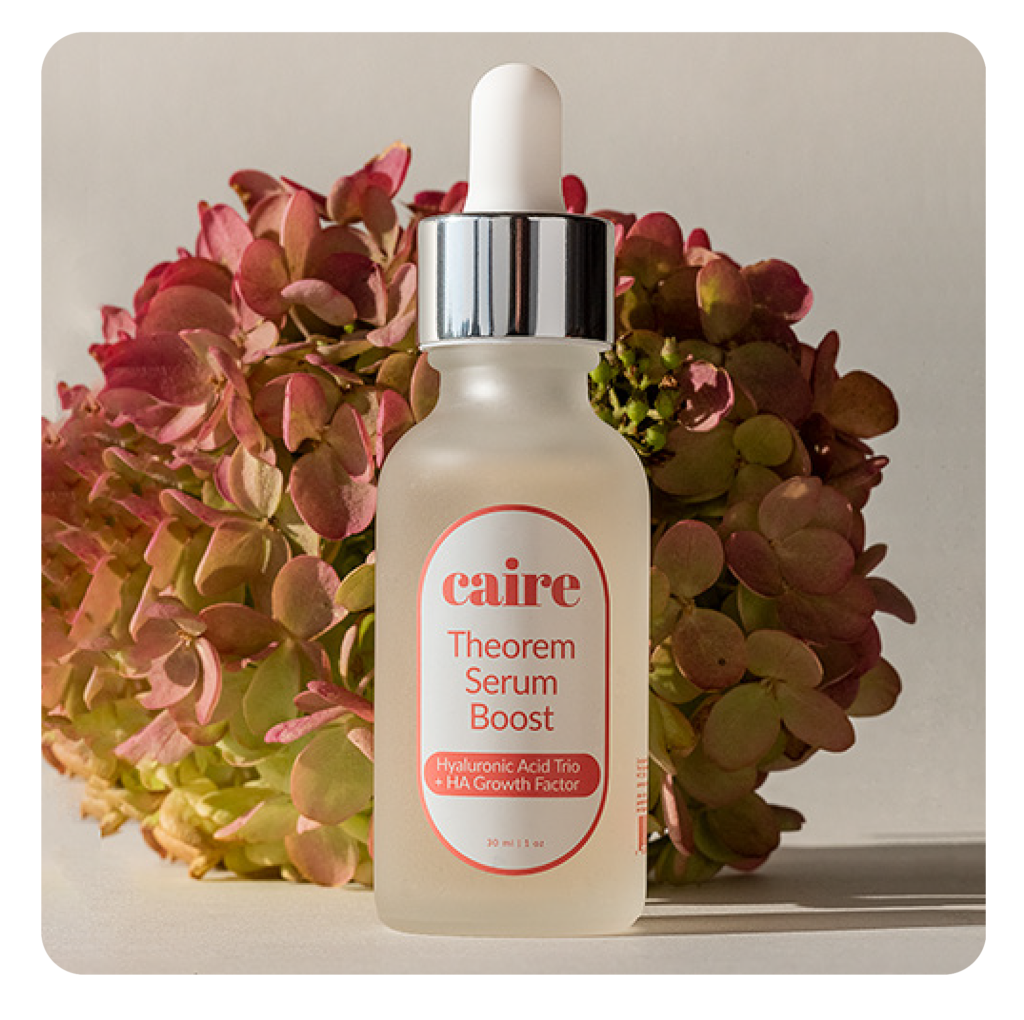 This mask is absolutely incredible! I fell in love the second I saw the packaging and the gorgeous pink texture – but then an obsession took over when I tried it on.
The Triple Lift Molecule Mask is now my go-to when I need a glow-inducing and wrinkle-reducing mask. Its formula infuses 3 custom-created types of Hyaluronic Acids and Fermented Polysaccharides into a gel-based tightening infusion. You slather it on and wait 15 minutes. Allow it to tighten – and then you can sit and let it do its magic for another 15 minutes more. The Triple Lift Molecure Mask continues to deliver customized nutrition for up to one hour, even after being washed off!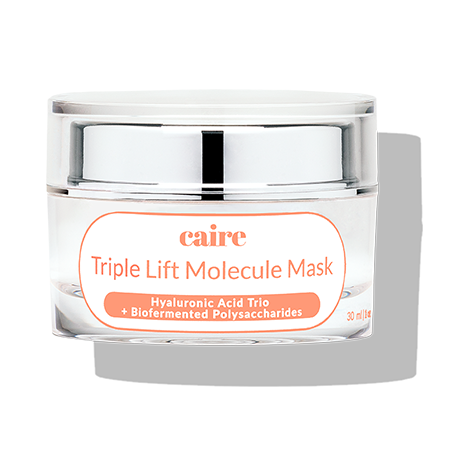 ---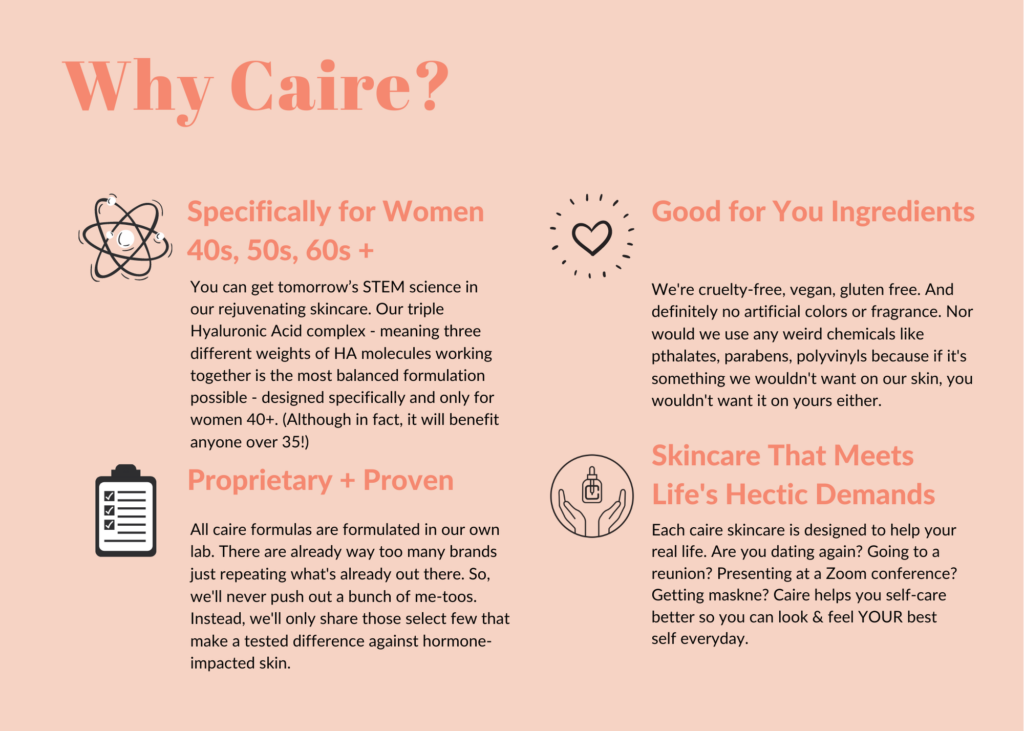 ---
+ Try this nutrient-packed duo. I have been using it for the month of December – when the weather has been dry and cold and wreaking havoc on my skin. Thankfully after tending loving Caire, I have been saved. I promise you'll love it!
---