Hi beauties!  Hope you had a fun and safe scorching JULY!  Mine was filled with lots of BBQs, beach time, pool time, sunshine and fresh fruit!  GET READY FOR MY JULY FAVES!  So many good beauty finds!
---
---
JULY FAVES – BEST NEW BEAUTY AND LIFESTYLE FINDS!
Ever too lazy to wash off your makeup after a long day?  If you're like me, you hit the hay and the last thing you want is to go through your complicated cleansing routine.  Enter my new fave find!  Aside from its magical cleansing powers, my favorite part is that it's reusable and eco friendly.
With advanced micro fiber technology, GLOV ON-THE-GO cleanses, tones AND removes impurities.  How's that for multitasking?  In just 4 simple steps your nightly routine becomes faster, easier and more enjoyable!  And it's so easy to use:
Dampen GLOV's dual action micro fibers with water
Wipe away your makeup
Hand wash the GLOV with any bar of soap
Hang to air dry
You're welcome.
Price: only $12.99!  Available at ULTA.COM.
---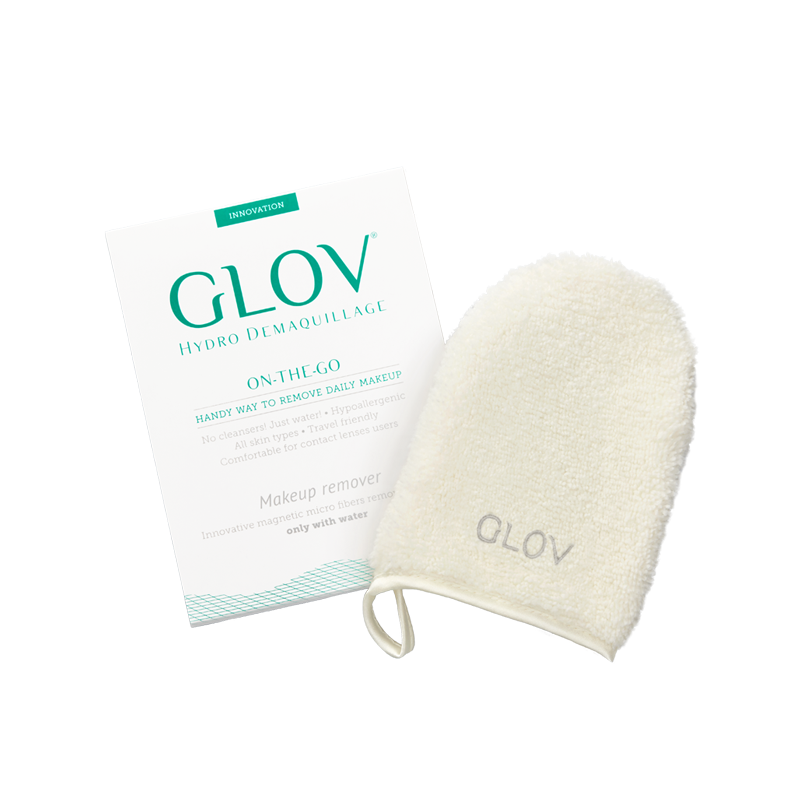 ---
You know me and my sheet masks.  I'm loving the brand Patchology and now I just tried their Lace Illuminate FlashMasque!  Aside from it being so purrrty, it features their proprietary moisture system which delivers deep hydration and renewed radiance.  In 5 minutes, you're left with a balanced skin tone resulting in brighter and more youthful-looking skin.  Just remove the mask, blend in the remaining serum, add some sunscreen — and you're good to go for the day!  And the lace decor is just too too cute!  $8 bucks a mask.  Way cheaper than a facial, no?!
And I may or may not have used the residual serum from the mask on my neck and arms.
Avail at Neiman Marcus and Nordstorm.
---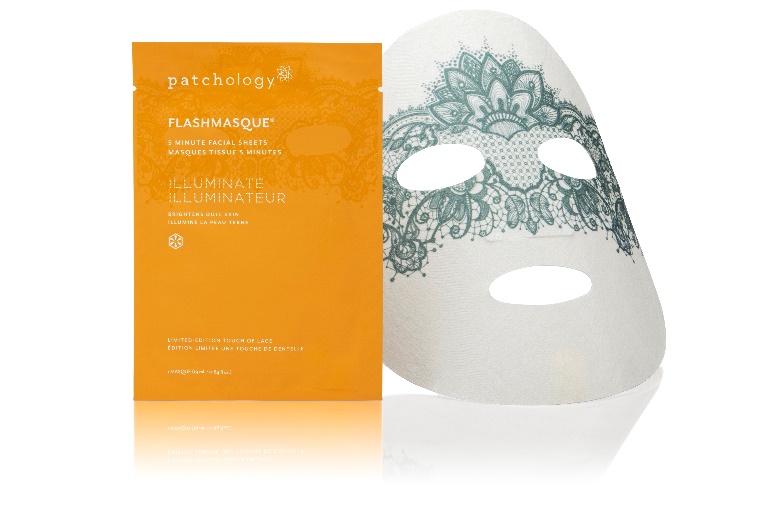 ---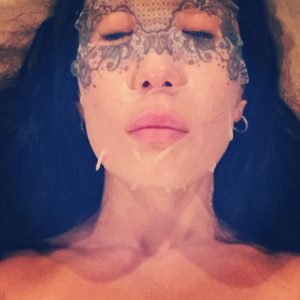 ---
UMBERTO SERUM
YUM!  I've been looking high and low over these last few years for the next REDKEN Glass.  That product used to be my favorite and something I purchased over and over again.  They replaced it for some reason with some crappy product that didn't do 10% of the job.  And it's for sale for hundreds of dollars on eBay.  (I've looked — and no, thank you.)
I've tried everything to achieve that same glossy sheen and detangling effect and nothing did the trick until — UMBERTO's NEW PRODUCT!  THANK YOU!!  I'm obsessed.  It's smooth and thick and nourishing.  It's cheap and it's good times and you can buy it at TARGET!
---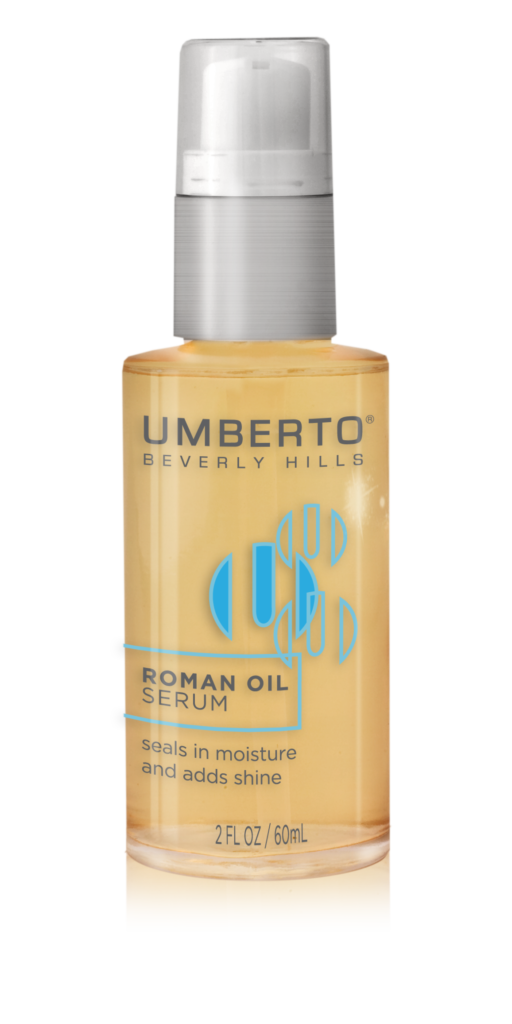 ---
---
I've written about this brand before because my husband and I fell in love with their ALL IN ONE balm.  And it's not just because of EARTH MAMA ANGEL BABY'S comforting name and brilliant branding.  Their is truth and backing to what they're messaging.
So of course I had to try their amazing baby lotions for my 2 girls.  And what did I find?  I found that their Calming Lavender Baby Lotion is divine and it's one step away from ushering my kids into a spa.  It's soothing and relaxing and delish.  Their Natural Non-Scents Baby Lotion is amazing as well – and it's the perfect carrier for when you want to add essential oils or go without any scent at all.  And their vanilla is just….  How do you go wrong with vanilla?  Eliana thinks she's wearing birthday cake.  Whatever works.
All of Earth Mama's baby lotions are rated 1 for toxins on EWG's Skin Deep Cosmetics Database and are always made without synthetic fragrance, phthalates or parabens.
I must say I REALLY REALLY trust this brand.  Try the balms and the lotions and you'll be hooked — and you'll feel safe knowing you're not slathering any toxins onto your babies' skin!
---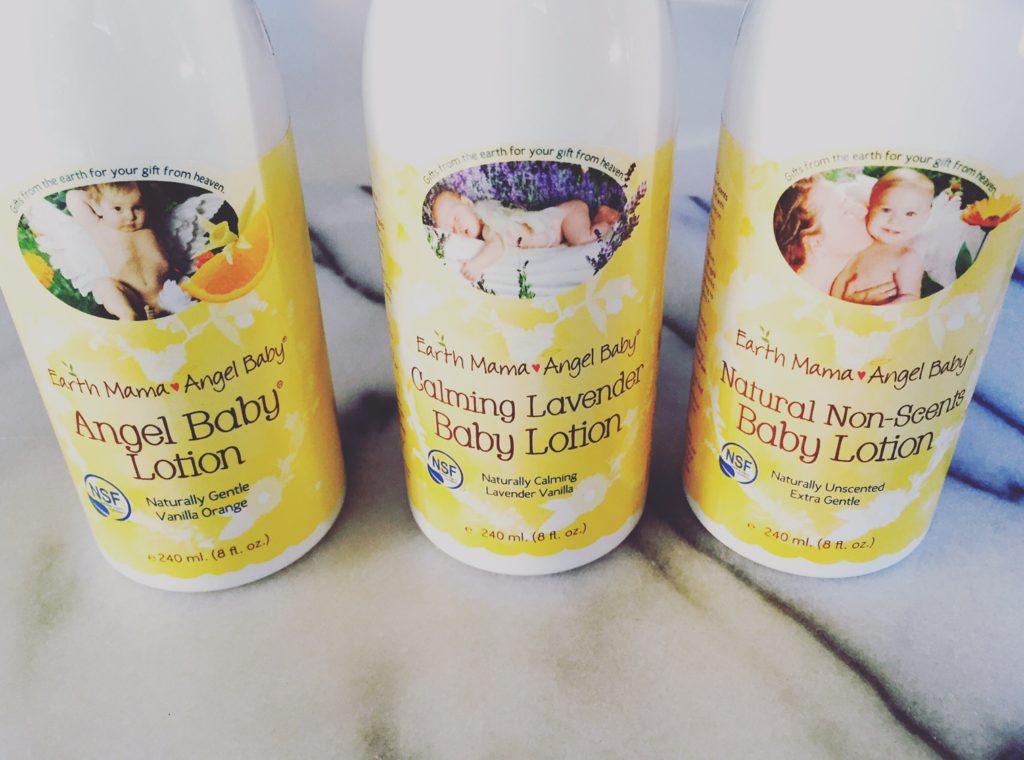 ---
The name of this brand is perfect and fitting — and this luxuriating bottle of facial salvation feels sooooo good to glide on.  It's a serum composed of a harmonious blend that supports skin healing (sun damage, anyone?) while kicking skin rejuvenation into overdrive while also assaulting harsh environmental toxins.  I'm loving that their key ingredients are all of nature's finest findings:  pea extract, peptides, pomegranate extract, vitamin C, resvreatrol, bamboo extract, chamomile extract, evening primrose extract.  You get the gist.
After checking out the company's scientific findings here, who wouldn't sign up?
Available for $210 at cosmedicine.com.  Pricey, yes.  But a little goes a long way.
---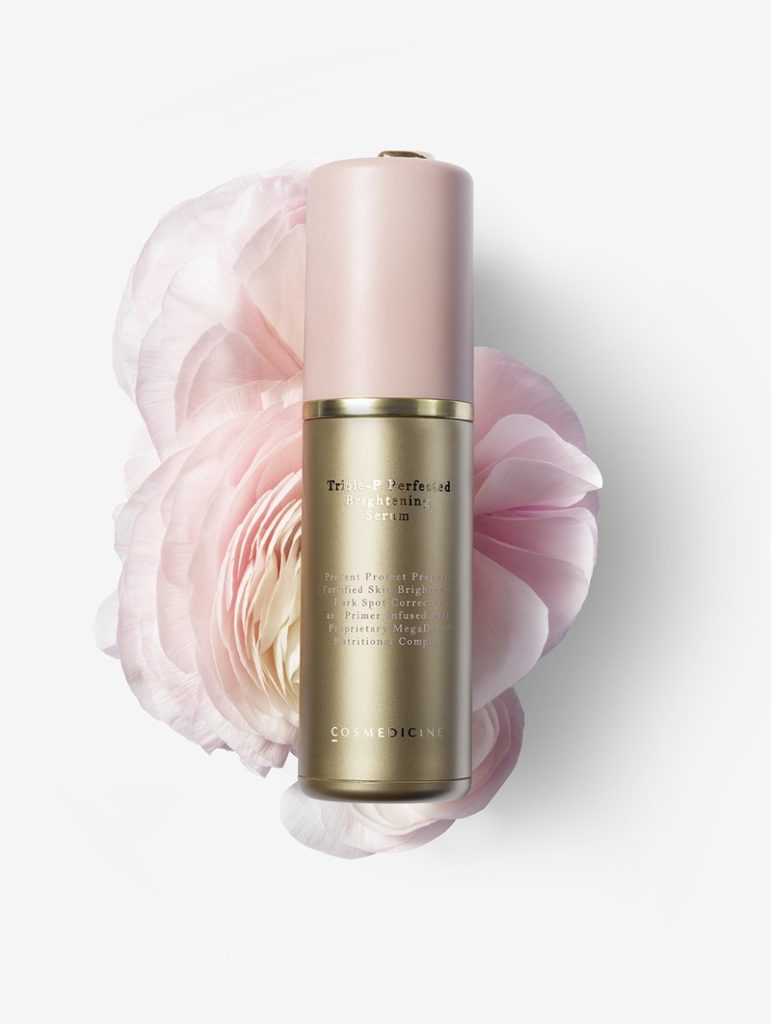 ---
Their eye cream is also pretty yummers!  It's deeply hydrating and reduces any dark circles we busy folks are destined to put on.  With the help of their  hyaluronic acid (the most coveted injectable wrinkle filler, evidently!) anti-inflammatory caffeine, Vitamin C and Cosmedicine's proprietary MegaDose Nutritional Complex, you're gonna look good.  Available for $90 at cosmedicine.com.
---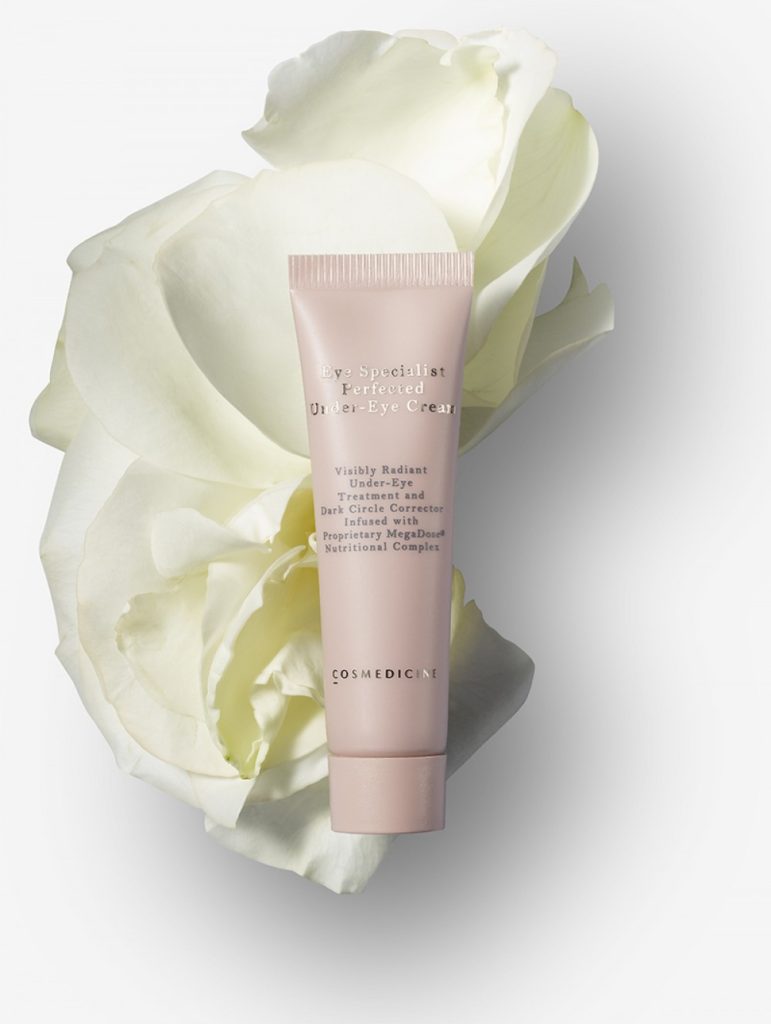 ---
---
This isn't a beauty find.  But it's a find!
If you're outside eating — or eating in the kitchen with the doors and windows wide open, you too are probably suffering the insufferable nuisance of FLIES!  So I just tried out the citronella candle that I found online — and it's allows you to eat in peace.  Sometimes I don't even need to light it.  The citronella oils ward them off regardless.  I will warn you though that the scent is strong.  Now I just set it in the center of our picnic table and I can finally eat in peace.
---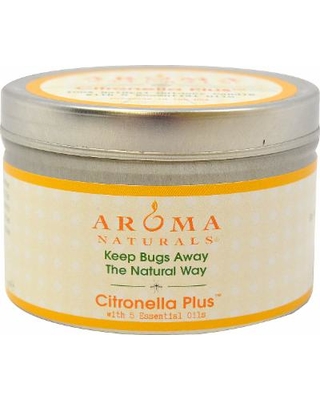 ---
SIMPLE SKINCARE CLEANSING WIPES
I just got introduced to this line.  Although I love my GLOV (see above), these are absolutely perfect to remove makeup when you're in the car on your way home from a long day.  Or when you're watching TV and  too lazy to get off the couch.
These are feel good makeup removers that instantly hydrate as they cleanse.  And there are no artificial perfumes, colors, chemicals and yuckety yuck!  They're cheap and you can find them anywhere around town.  Walgreens, etc.
---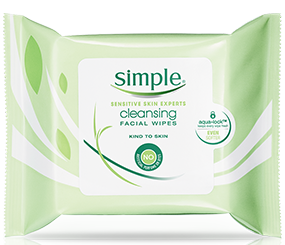 ---
---
Aging defying while offering full coverage!  What's not to love about this new light and clean foundation!  I used to use MAKEUP FOREVER – but I think I found a new obsession.  And evidently Laura Prepon backs this product too!  Mineral Fusion created the perfect balance.  The skin is left silky and hydrated (without looking like an oily mess) but it gives you full coverage.  All while being 100% vegetarian, gluten, paraben, fragrance and talc-free – and hypo-allergenic and phthalate free too!
Their firming peptides, antioxidant-rich botanicals and natural mineral pigments correct signs of aging, provide anti-inflammatory benefits, combats breakouts and reduces collage breakdown.  I mean.  COME ON!
It's $29.99 at your local Whole Foods Markets!
---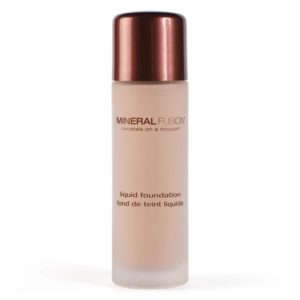 ---
+++  That's it for now!  Thanks for reading.  And be sure to check back on the blog for my AUGUST FAVES!
---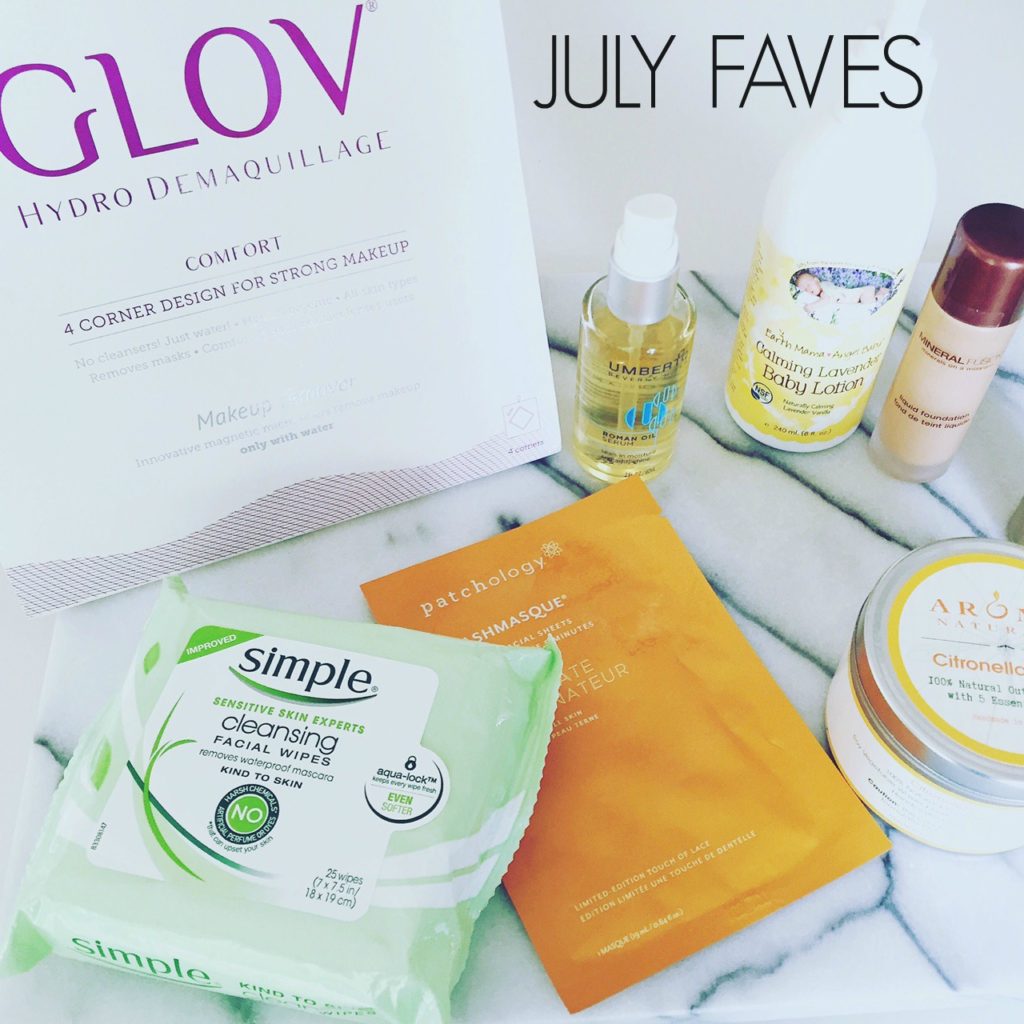 ---
+++ AND STAY TUNED READERS:  Coming up on the blog are interviews with KIMBERLY SNYDER (holistic nutritionist and author of 3 NYT BESTSELLERS), the one and only ASHLEY BORDEN + CELEB MAKEUP ARTIST GILLIAN WHITLOCK!  OH, AND OUR INCREDIBLE KIM SHAPIRA, M.S., R.D. WILL BE COMING BACK TO VISIT US.  SO STAY TUNED FOR THAT!  GOOD TIMES ARE A'COMIN!  HAPPY AUGUST!
---
[adsenseyu1]
---