That's correct.  Brazilian.  Triplets.  
Thayana, Thaisa and Thaina Sco (professionally known as "SCO") are no strangers to screaming fans in Europe, North Africa and Asia.  Since they were little girls, they have been entertainers in various areas of the biz — as singers, songwriters, actors, dancers, models, producers and writers.  They are best known as an internationally renown, multi platinum album selling music group (signed to BMG Music) — who were signed with the #1 French television channel (TF1) and sponsored by Coca Cola.  And now their feats are just tripling in size.  (Pun totally intended.)
---
[adsenseyu5]
---
Coming to America:  Seconds after stepping off the plane, they got their feet wet (fast!) in the watchful eyes of America.  They're quite the vision on any red carpet – and in any room for that matter.  Cameras flock and journalists inquire.  America is interested.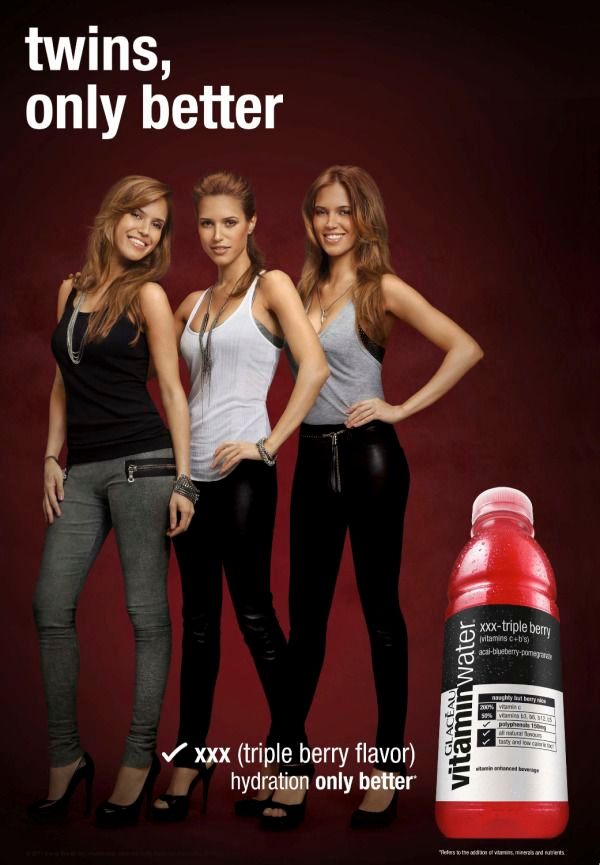 Upon arriving, they shot an ad for Vitamin Water TRIPLE BERRY internationally, sang the American National Anthem for the LA GALAXY game at the Home Depot Center and starred in a national Virgin Mobile commercial (reaching over 6 million YouTube views).  Not bad.
And now……
From Happy Days and Mork and Mindy to Thayana, Thaisa and Thaina Sco, vet scribe producer Garry Marshall is back to putting pen to paper to architect the next creative vehicle for these incredibly gifted (and not-too-shabby) Brazilian triplet talents.
The creative development is still being ironed out — but it looks like it's going to be a 30 minute single camera format — a la (my favorite shows) The Office and Arrested Development….and Mork and Mindy! Regardless, something good is cookin'.
I sat down with my dearest and loveliest 3 amigos (sorry, I can't stop) for some SHE SAID girl talk.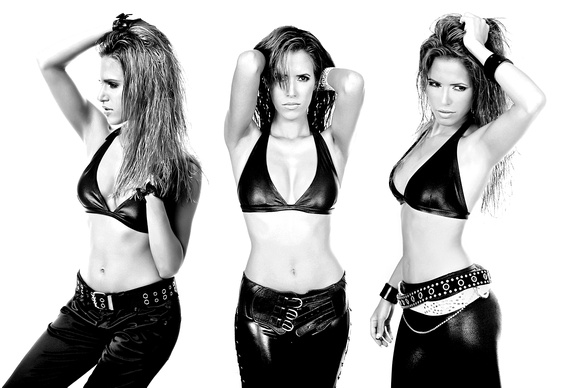 ME:  How did you meet Garry Marshall and how did the project in development come about?
Thaisa: My sisters and I met Garry at a friend's BBQ. At a moment when talking about the entertainment industry, we instantly connected, and Garry set up a meeting with us at his office to talk about some ideas. Boy, we were ready! My sisters and I pitched to him two of our scripted projects that we had previously created with our business partner Taj Jackson — and Garry loved one of the ideas. Next thing we know, we are once again at Garry's office to get introduced to his son and business partner Scott, and to introduce Taj to them as well. It is very exciting to be in this amazing journey together.
ME:  What do you like best about America?
Thaina: Growing up, my sisters and I always saw the world as this one single giant connected place. Being triplets, there's a message we always carry in our hearts: it doesn't matter where you are from, we are all the same. I remember my sisters and I always discussing our dreams, and meeting different parts of the world was definitely one we had in common. Our art brought us to live in many different cities in Brazil, then to France, now America, and we've had the chance to travel to more than ten countries around Europe, Africa and Asia. And like everywhere else we've been, what we love about America is the possibility it gives us to expand our cultural experiences.
---
[adsenseyu2]
---
ME:  Why did you move to the states and what do you miss most about home?
Thayana: We came to America to continue working on our craft. My sisters and I all fell in love with the U.S. and ended up staying here. The thing I miss the most about Brazil is definitely our family. We try to go to Brazil at least once a year. If not, we are constantly receiving visits from mom and dad.
---
ME:  Where do you consider home?  France?  Brazil?
---
Thaisa: It is such a difficult question to answer. We grew up in Brazil where our family resides, then our work brought us to France [where we lived for a long time], which we loved, since my sisters and I are passionate about fashion and their food as well. It also gave us the opportunity to learn French as our third language. Our mom had joined us and is still living there. Now the three of us are here in America together. All three countries are a part of who we are today; we've made friends and built many memories in all those places – so we consider all of them home.
---
ME:  Who are your cultural icon idols?  Musicians/actors/etc.
---
Thaina: We grew up in a very artistic home. Though our parents didn't pursue it as their jobs, our father plays guitar and sings, our mom is also a singer (and performs regularly at her church), and she is also a graduate of the performing arts. So pretty much we grew up under their artistic influences as well as the ones we appreciated and enjoyed ourselves. We are in such a diverse world with so much talent. We always leaned towards artists who went beyond their talents and used their [fame and] notoriety as a vehicle to bring people and the world to a better place, such as: Charlie Chaplin, Angelina Jolie, Paulo Coelho, Michael Jackson, Xuxa, Gisele Bündchen, Ayrton Senna.
---
Besides them, the three of us sum up with very eclectic choices:
---
In music
– Stevie Wonder,
The Jackson 5
and
Michael Jackson
, Spice Girls, Mariah Carey, The Beatles, Lauryn Hill, Roxette, and many others. We also admire our fellow Brazilians such as Djavan, Marisa Monte, Caetano Veloso, Thales Roberto, Leonardo Gonçalves, Fat Family, Ed Motta, Mauricio Manieri, etc.
---
In acting – Jim Carrey, Sandra Bullock, Matthew McConaughey, Denzel Washington, Jackie Chan, Wagner Moura, Fernanda Montenegro, Rodrigo Santoro, to name a few.
---
ME:  Are you guys single?
---
Thaisa: I'm single.
---
Thaina: I'm so humbled about being busy with my career, that I have no time right now but to be married to my work.
---
Thayana: I've been with my, now hubby, for 10 years, who happens to be my best friend and now one of my business partner along with my sisters as well.
---
ME:  What are your favorite restaurants in Los Angeles?
---
Thaina: Jitlada is a Thai family business; Phorage is fresh, organic and local; The Gordon Ramsay at the London Hotel; Inn of the Seventh Ray in Malibu; and Gjelina which you have to try to know what I'm talking about.
---
Thaisa: Bouchon and
Fig and Olive.
 (After living in Paris, I'm forever a lover of French cuisine); Nobu in Malibu, Japanese food is also one of my faves; and the
Cut
restaurant, yum.
---
Thayana: I love Indian food, especially from this one family owned restaurant called Taste of India. And I also love to eat while catching a movie at the dine-in movie theater Cinepolis.  So much fun! And when I'm feeling fancy and hungry I go to the delicious
The Villa
.
---
[adsenseyu4]
---
ME:  What are your favorite things to do in Los Angeles?
---
Thayana: I love to either chill at home or hang out with family and friends. Holiday gatherings or family vacations are one of my favorite things of the year besides working. Haha!
---
Thaina: I ditto what Thayana said. I'd say I not only love living in LA but I love living in California. There's a little bit for everyone's taste at only 4 hours away. So I love taking a weekend and going to
Big Bear
during Ski season, or to go to
Vegas
for a weekend. I also like going to the movies, spending time with friends wherever the place is, rather having dinner at someone's house or a restaurant or go for afternoon teas and high teas or going to a lounge and live music. I like museums and beaches, like Santa Catalina or driving the coast to Santa Barbara. Fam vacay and chilling home are also on my list.
---
Thaisa: [During the day,] I love going to the beach, hiking, going to museums and having nice brunches at my favorite cafes or high tea spots. Then at night, I love going to the movie theaters, restaurants or listening to live music.
---
ME:  Where else would you like to go with your career?
---
Thayana: We've been doing what we do for basically our entire lives, everyday looking forward to refining our craft and living in the moment. We work hard and love what we do. We hope to continue on doing what we do and to hopefully do our part to make it a better world and maybe influence other people to make it a better place for all of us too.
---
ME:  What are your favorite foods?
---
Thaisa: I'm sure I speak for both my sisters and I when I say we really have a craving for all natural, organic foods. We recently started to plant our own urban garden and have our groceries delivered from sustainable, green, NON-GMO and preservatives-free local farmer markets.
---
[adsenseyu4] 
---
ME:  And last, but certainly not least (as I'm sure your fans want to know)…..What are your beauty secrets?  Anything you brought from Brazil?
---
Thaina: Definitely start with sipping on 8-10 cups of water throughout the day, if possible your best choice in water is to drink it Alkaline. We tend to put lemon peels in it as well. Wearing sunblock is at the top of our list, you have to make sure your sunblock comes with zinc, is paraben-free and has no vitamin A. When it comes to Brazilian habits, definitely drinking Coconut Water. It's so delicious!
---
Thank you Thayana, Thaisa and Thaina!
THAT'S IT FOR THE MOMENT!  But look out for them.  SCO IS ABOUT TO EXPLODE!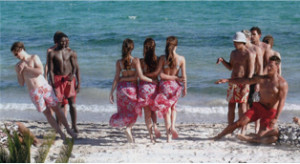 ---
[adsenseyu5]
---
+++ UPDATE:  Since the publication of this post,

SCO TRIPLETS

wrote and recorded this phenomenal song.  A song that should be the SUMMER HIT OF 2016!  ENJOY AND SHARE THIS BEAUTIFUL VIDEO, DIRECTED BY THE UBER AND MULTI-TALENTED TAJ JACKSON and produced by PRINCE JACKSON.
---