I'm super excited for today's interview with ASHLEY BORDEN — and I feel super blessed to have her on the blog again.  She will be dishing on her how to get rid of bloating fast for this coming summer! All the best fitness, diet and lifestyle tips you need.
---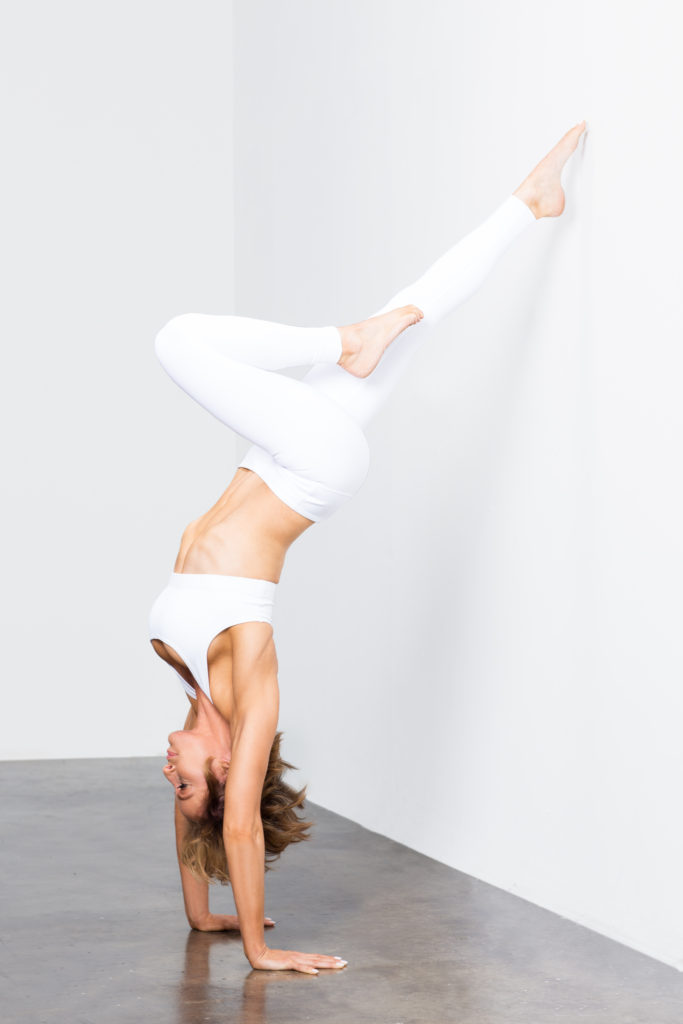 ---
WHO IS ASHLEY BORDEN?
If you don't already know who she is, I'll start by saying she's someone who's so ridiculous looking — I have no idea why she isn't walking the A-list red carpet herself.  She has instead dedicated over 35,000 hours of experience to her beloved devotion of being the rock hard body behind the rock hard bodies and the brilliantly empathetic therapist who's capable of putting a stop to her clients' debilitating mindsets and habits.  She's a facilitator in making those she comes into contact with becoming the ultimate and best version of themselves.
ASHLEY BORDEN is the fitness and lifestyle queen responsible for strengthening, lengthening and toning all of America's best and giving them a confidence boost to boot!  Whether her client is an Academy award-winning actor, Grammy award-winning musician, UFC titan, cancer patient, doctor, lawyer, or housewife — she gives herself to every single one of her clients and makes you feel like you're the only person that matters.
She's a life coach, a health coach and so much more.
Oh, and she accepts no negative talk — except for a few bits of her own hilarious self-deprecation for humor's sake.
And those who follow her on Instagram have been witnessing her go from great, strong and lean —  to greater, stronger and leaner through the incorporation of her philosophies of weight-bearing exercises, her balanced SOS diet (to be discussed below) and her newer found loves of martial arts and Olympic lifting.  She's one we should all be trying to emulate!
---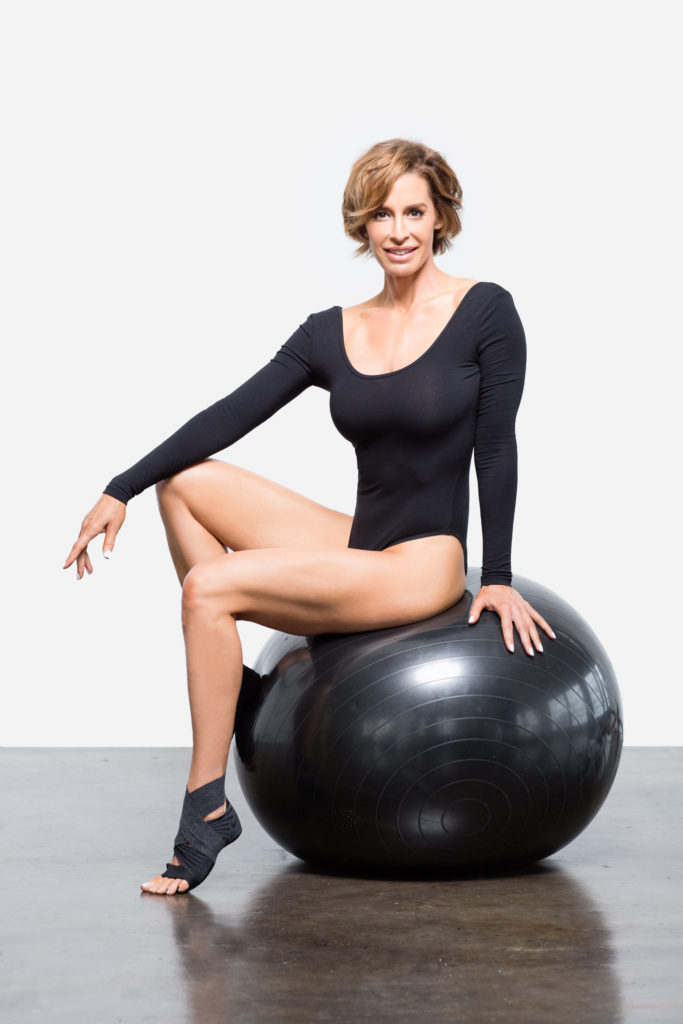 ---
ASHLEY BORDEN is all heart — which is why she's so great at what she does.  She walks the walk and talks the talk.  She has been given this gift — to help people, to move people, and to allow people to look good, feel good and live the healthy lifestyle they've only dreamed about.
Yay for us – she is gifting us with her wisdom and know how.  And if anyone knows how it's ASHLEY — as she's always been her own guinea pig.  About 15 years ago when I met her, she was stunning and the vision of health and happiness. Who knew that she could surpass the highest echelons of herself and become even stronger, leaner, longer, younger and more efficient at 46 years young.
ASHLEY BORDEN'S THE BODY FOUNDATION
And last but not least, she is the creator of my favorite workout program called The Body Foundation as well as her Ashley Borden Fitness and Lifestyle Portal that will allow you to have her as your very own personal trainer in the ease and comfort of your own home! It includes fabulous streaming videos which are easy and convenient to use, her beautiful 80 page SOS meal plan and her rolling out guide.  No gimmicks, no commitments – unless you find that it works for you. It's a win win all around.
She's unstoppable and soon you will be too.  Now let's go!
---
---
HOW TO GET RID OF BLOATING FAST
| Welcome, Ash!  Thank you for generously dishing on all your tricks.   Please tell us your top tips on how to look good,  feel less bloated and lose inches for this coming bikini season. | 
The most important thing is to stop punishing yourself and start healing the body and decreasing inflammation instead.  I am obsessed with anti-inflammatory everything!  The thing is, if you want to lose inches, a lot of times it's about inflammation and stress you're putting on the body.  So we need to focus on eliminating that inflammation, nourishing the body and healing from the inside out.
I am big on taking turmeric in an organic pill form.  You see and feel it immediately.  There are so many benefits and it's an excellent anti-inflammatory supplement.

Many times when people feel chunky, it's usually just lactic acid build up or bulk from sitting all the time.  You feel like a stuffed sausage which comes from a lack of circulation in your muscles.  You have no mobility and no circulation — and you feel terrible and tight.  Rolling out will take care of this.  It will increase circulation and flexibility, boost your metabolic rate and reduce the appearance of cellulite.  [Readers:  click here or here to view any of her rolling out videos.]

Soda gives you zero hydration.  If you're craving the bubbles, then have sparkling water.  But it's still full of gas and will give you a bloated belly.  I go for some Kombucha instead.  Or drink green tea!

The recommended amount is 1500 mg of sodium.  So don't eat packaged foods.  Boxed and canned foods have so much salt you're going to end up being bloated and feeling tight and huge.  Uses spices instead.

This is a fantastic exercise to do indoors during the cold weather.  There are innumerable health benefits  — from fighting osteoporosis, boosting your immune system, destressing and tackling diabetes.  I am a huge fan of the Bellicon.  I support investing in a rebounder much more than paying for a gym membership.

DO QUICK EXERCISES INDOORS THAT WILL GET YOUR HEART PUMPING: 

Plank for 40 seconds.
Do 40 seconds on the rebounder.
Plank for 40 seconds.
Do 40 seconds on the rebounder.
[Do 5 rounds of this!  It's great for osteoporosis and fat loss.]

I'm obsessed with the Korean scrub!  It's amazing!  I'm huge on scrubbing/dry brushing/massaging upward toward the heart.  I scrub for a long, long time like a Korean woman!

BALANCE / DON'T EAT CRAP:

My diet is very clean.  I think a large reason I don't have cellulite is because I've been following my food and exercise regimens for a long time.  But don't get me wrong.   I'm a strong believer in balance — and I love my occasional treat of jelly bellies and ice cream.  They're the most artificial things I eat.  But I only let myself have them once in a while.  Balance!

MOVE!

I'm always moving around and I neither stand nor sit for a long time.  Your body collects body fat where your body shuts off.  If you look at someone with saddlebags or loose triceps – those are areas of their body that aren't activated.  It's all the biomechanics of your body.  Be sure to keep moving.

DRINK WATER:

People stop drinking in the winter for some reason.  So make it easy.  Get a wide mouth bottle, add ice, drink it warm, sip it with a straw.  Make any change that will make it easy for you to drink it.  There are so many different bottles these days to choose from.  And regardless of what you hear, there is no difference in how you metabolize hot vs. cold water.  So just drink it however you prefer.

GET OFF THE SUGAR:

It is so bad for you!  Sugar a huge cause of inflammation, belly bloat and diseases.  And it's so physically addictive.

This is an amazing app that lets you use a scroll wheel like they did it football.  I recommend using apps and video rather than the mirror.  Looking at the mirror leads to self-criticism.  Plus, it's good to see yourself in video when it's not in real time.  You can really focus on your form.
[adsenseyu5]
---
WHAT IS THE BODY FOUNDATION?
THE BODY FOUNDATION is a 21-day program which is available through streaming or DVD.  The content is available for purchase on ASHLEY BORDEN.COM.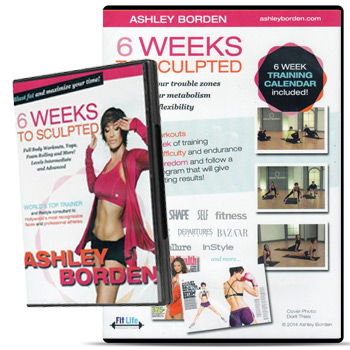 | Well, I've already taken a dig at the portal and it looks phenomenal.  I'm working on 6 WEEKS TO SCULPTED first – and I've already been seeing and feeling results.
[Readers:  I urge all of you to check out the portal now!]
---
WHAT TO EAT
|I think my readers would all love to know what you eat.  Can you give us a sample of your daily food intake? What's your go-to breakfast, for example?  Pre and post workout?  What gives you the fuel and stamina to do everything you do?|
---
Well for breakfast, I first have a cup of coffee.  Then a protein shake.  And then Ezequiel bread with almond butter.  And my workout is followed by another protein shake.  I'm a creature of habit!
---
ASHLEY'S 

PRE

-WORKOUT PROTEIN SHAKE RECIPE
---
 + 
SFH PURE
protein powder (There are no antibiotics, gluten, etc.  It's very clean.)
+ 2 handfuls of ice
+ 1 banana
+ almond butter
+ cinnamon
+ almond milk, chocolate almond milk or reduced fat Lactaid (I'll use water sometimes if my fridge is empty.)
+ oatmeal  (I'll blend in about 1/4 cup of oatmeal on days I feel I'll need more energy.)
---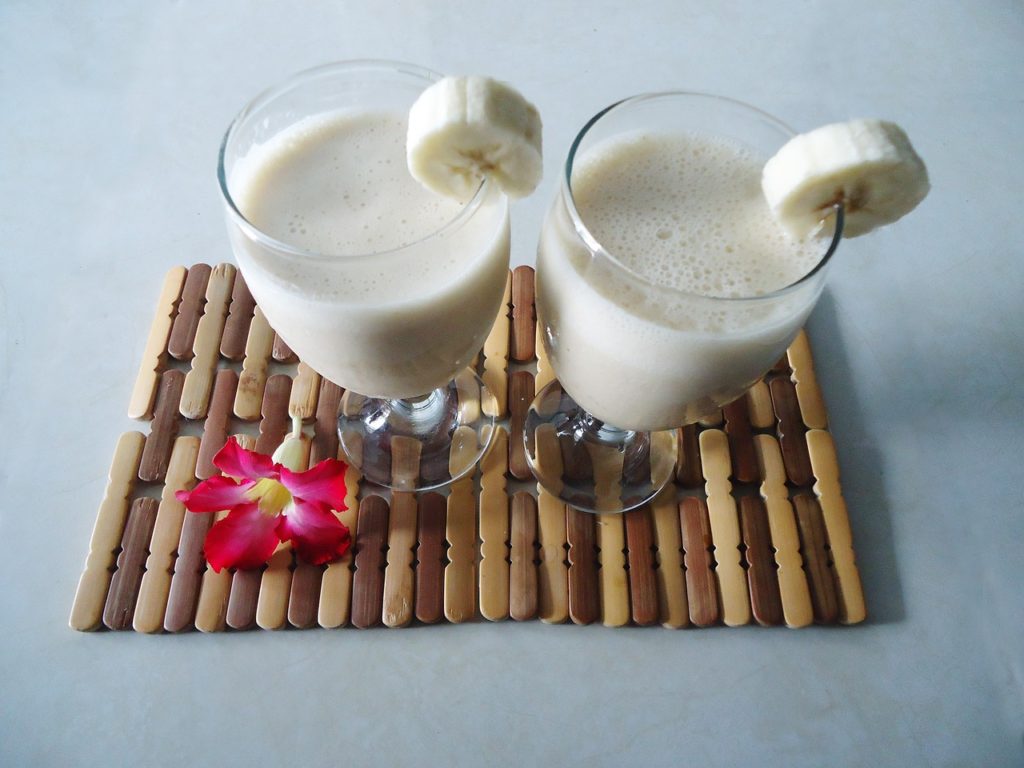 Ezequiel bread with almond butter (I bring it with me to work.)
---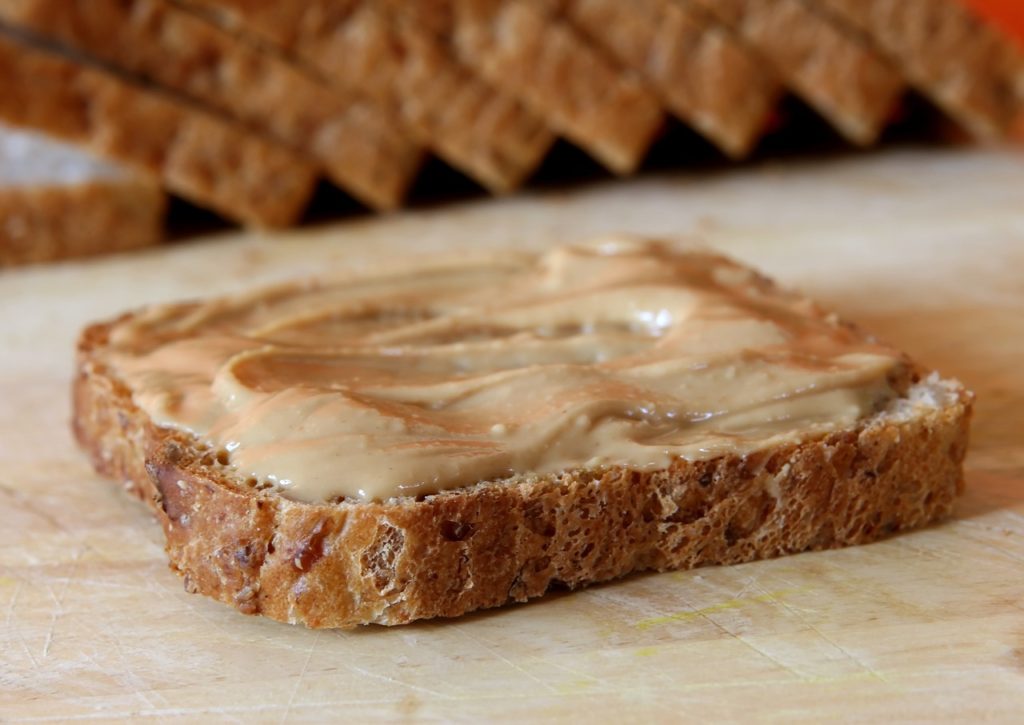 ---
ASHLEY'S

POST

-WORKOUT PROTEIN SHAKE RECIPE 
---
I do the same shake as above but I add in glutamine and BCAA (Braggs chain amino acid).
 For snacks, I lean toward fruit and fats like blueberries and almonds.  I eat a very high, fat lean protein, Mediterranean diet sort of way.
---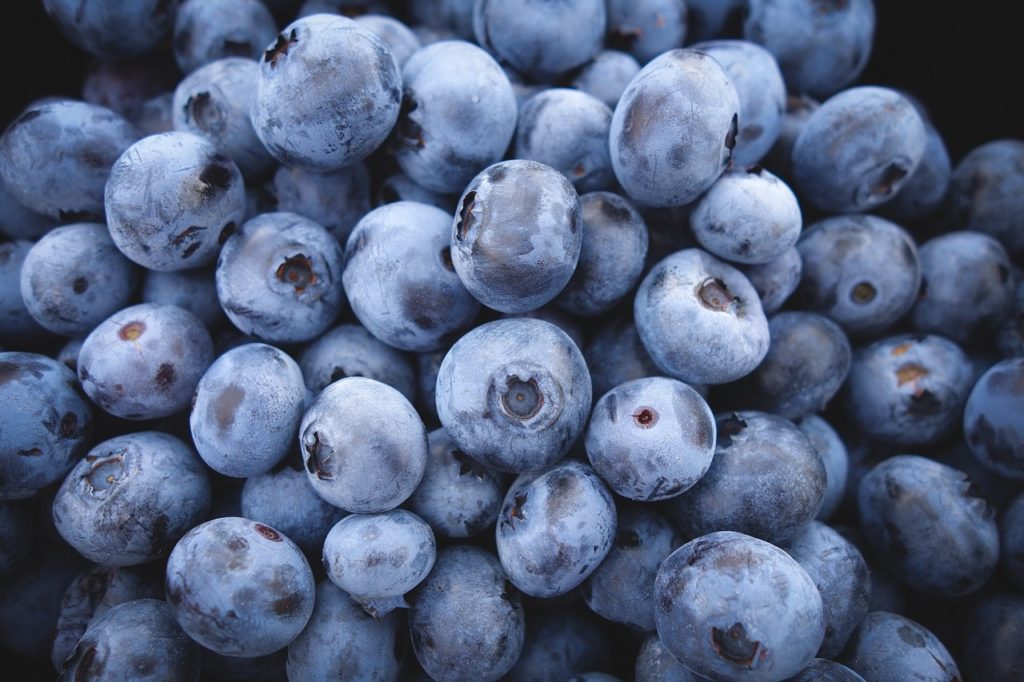 ---
|  What is your go-to sweet-treat / dessert? |
Dark chocolate with almond butter!  But sometimes I want my jelly bellies.  But as we know, sugar messes with your blood sugar so I am sure to add a fat.  So I'll take a teaspoon of peanut butter or almond butter before the jelly bellies.  It's not like I feel good after the jelly bellies.  But I try to lessen the damage.
---
| So we know you do your Udo's oil.  How the freak else do you keep your skin looking like a 20-year-old? |
I avoid the sun when I can and I always wear sunscreen – I love Tizo tinted sunscreen.
I cover my chest with a scarf.
Clarisonic – I use it all the time, including on my neck and chest!
I get facials every 3 weeks from Verabella.
I do body work by Jimmy Bluff every 3 weeks. Go to his website and check him out. The before and afters are incredible.
I use Verabella skincare since there are no parabens, etc. I love their grapefruit deep pore cleanser!
 | What's your favorite charity? |
Best Friends.  I'm an ambassador for them and they're amazing and do incredible things.  I love that they have a beautiful campaign and there are no ugly images.  They present animals in a beautiful light.
---
| Aside from everything you do – from training clients to training yourself, creating videos and writing books, is there anything else on the horizon? |
YES!!!  I'm working on a podcast!!!  It's going to be about fitness and lifestyle and I want to have you on as a guest!
---
| THAT'S AMAZING!  DONE!  I support everything you do and I cannot wait! |
---
[adsenseyu1]
---
++++ GRATITUDE, GRATITUDE to you Ashley for doing this interview.  You have so much fabulous insight and you're such a generous soul.  Keep on doing what you're doing.  You help every human who has the honor of knowing you, your work and your vision.
---
+++ PHOTO CREDIT FOR ALL ASHLEY BORDEN PHOTOS:  Carlos Moscat Photography
---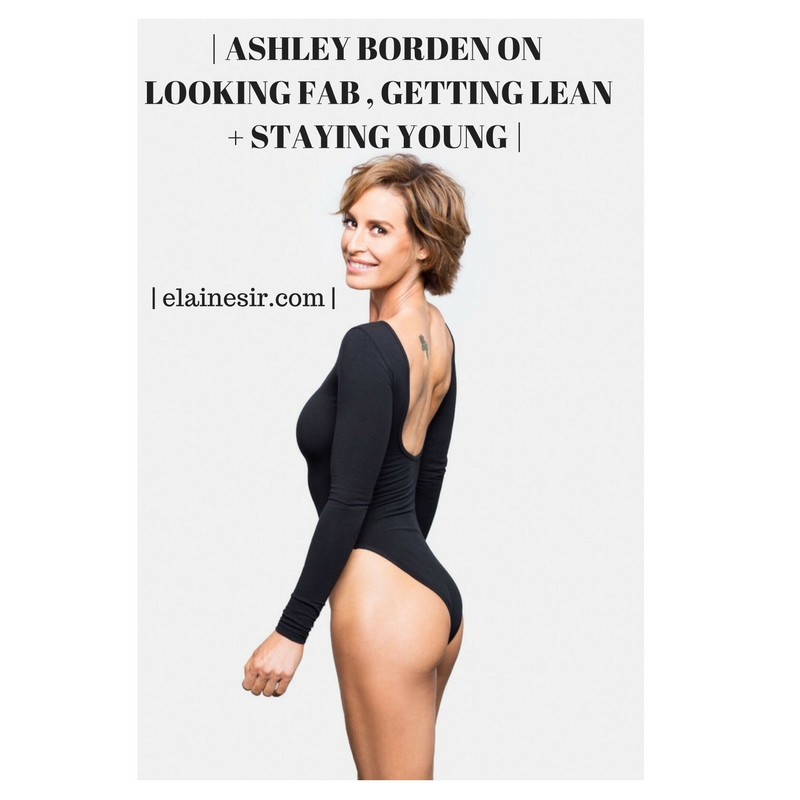 ---
[adsenseyu4][adsenseyu5]