HEALTHY FAMILY MEAL DELIVERY
 I should probably preface this post by telling you folks that I'm somewhat decent in the kitchen. I don't mean that in a boastful way, I just mean to say that I generally enjoy the creativity that comes along with the responsibility of feeding 3 humans thrice daily. But if we can get real for a second, grocery shopping and meal prepping with a 4 year old boy whose idea of being helpful at the store is to race his cart directly to all of his favorite snacks and then declare (at the top of his lungs) that he would like to go the register and check out is, shall we say, not ideal.
In other words, I feel as if I'm on vacation if/when I'm in the grocery store alone. Oh and did I mention I go to 2 different grocery stores, one for animal proteins and another for everything else just so I can get organic proteins?! And the days I do opt to brave the circus that is the store, I try to be in and out as quickly as possible. Which means I have a standing grocery list that doesn't rotate frequently. It also usually means more kid friendly meals than I'd like to admit. A few too many servings of macaroni and cheese and it's no wonder why those pesky 10 lbs seem to cling to my hips (and thighs, ass and arms). Gluten free pasta is still carbs after all.
One Potato Two Potato.
---
[adsenseyu1]
---
The technology adopters that are reading this are shaking their heads at me saying, "What's wrong with you, why don't you Instacart?" I can lie and give you a million reasons but the reality is that I'm too cheap.
ONE POTATO TWO POTATO :: HEALTHY FAMILY MEALS
---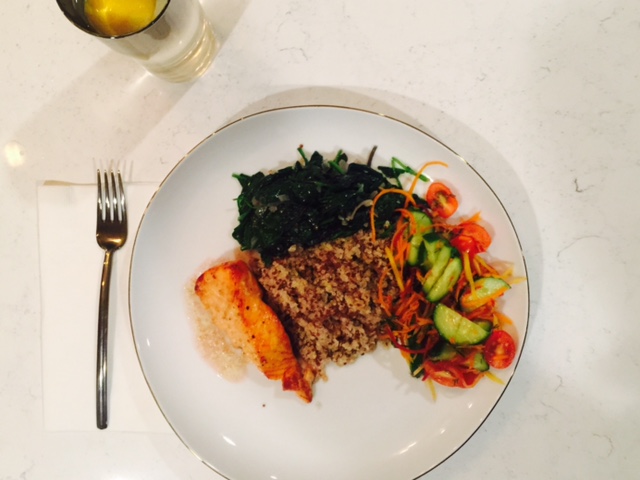 The seemingly perfect solution. And despite my reticence to embrace technology, this is using it in it's finest form. And because the price is so reasonable I cannot justify NOT doing this. The sign up is easy: you go to the site, enter in some details about your family size, food preferences and/or allergies, choose from an array of healthy options and BOOM! A box filled with perfectly packaged ingredients and cooking instructions for 3 healthy and delectable meals arrives at your door. All the produce is organic, the fish is wild caught and the proteins are all free range.
And the best part is I don't have to go to three grocery stores to source it all. And please let me reiterate the delectable bit. The food in this box was so good we all licked our plates. And they were, in no uncertain terms, the healthiest meals I have ever put in front of my family.  This was also the most enjoyable way to cook. Like, ever. I unpacked the ingredients, put on some tunes, poured a glass of wine and turned off my brain. I followed the instructions on the cards and 20 minutes later the most insanely delicious meal was plated and ready for devouring.
---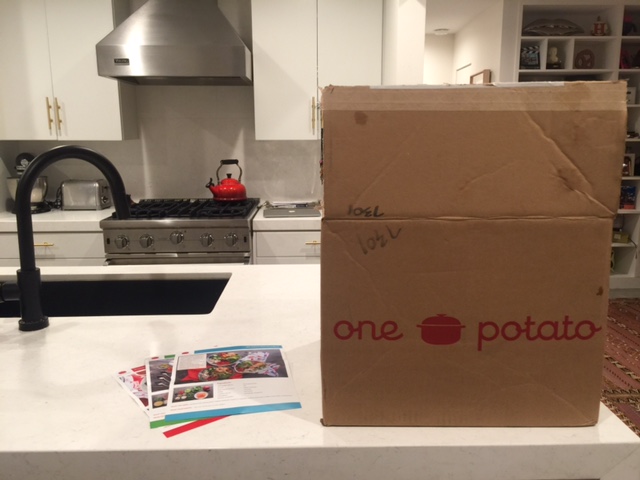 ---
Lucky for you readers, I'm going to break this down with a night by night review, graded on a scale of:
+ Exhaustion level to cook (measured in ZZs. 1 Z for you can be a step above dead to cook this. 2ZZs, you snuck a nap while your kid was in preschool and so forth)
+ Level of deliciousness (measured in forks from a scale of 1 fork, some food leftover, all the way to clean plate (which is self-explanatory)
+ Ease of Cleanup (measured in paper towels, 1 for super easy and so forth)
---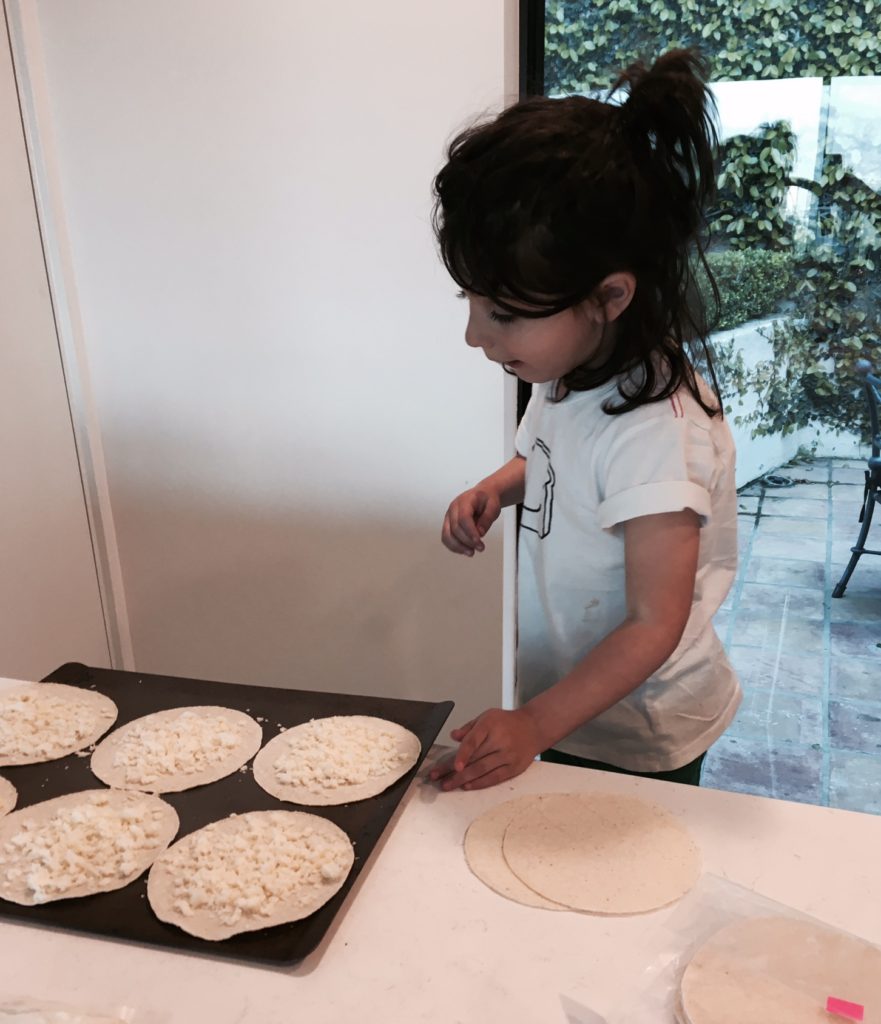 ---
NIGHT ONE
DIY Salmon Superfood Bowl
Exhaustion Level: 1Z
Level of Deliciousness: CLEAN PLATE
If I'm perfectly honest, when I chose the meals for the week, I was hesitant to choose this as it looked SO healthy I thought I might have to grit my teeth while eating it, but I was proven way beyond wrong. From start to finish this was a dream. This night was one of the nights I was glad we ate after the little went to sleep so The Haasbund and I could ro-sham-bo for who would get his portion. (I lost).
Ease of Cleanup: 1 Paper Towel: since everything is portioned out for you ahead of time (minus some cutting of fresh vegetables), clean up was a BREEZE. Which seemed slightly unfair to me because the Haasbund and I have a deal wherein he cleans whatever mess I make in the kitchen. Usually he gets the raw end of the deal, but I don't feel guilty because if we remember the above bit about the grocery store.
---
NIGHT TWO
Exhaustion Level: 1Z
Level of Deliciousness: Clean Plate
My original plan for this meal was to prep it tonight to cook it and serve
tomorrow
night as it is a mostly kid friendly meal and I had actual adult plans. But then I said "who am I kidding, I'm not prepping 2 meals tonight" and figured I'd give some of the leftovers to C in his lunch bunch. And then – my oven broke. My brand new Viking Professional Range that we got less than one year ago. For the second time. So I guess I should add that if you prep this the day before and then bake it the next day, the crunch on the outside of the nuggets is extra crispy and thus extra delicious. The whole meal, down to the homemade fancy grown up ketchup, was delectable. I did manage to overcook the fries because, well, life, but despite the burn, they were still excellent.
Ease of Cleanup: 3 Paper Towels (there were a few bowls involved and a few baking trays, but still relatively easy.
---
NIGHT THREE
Exhaustion Level: 0ZZs (I was sick when I made this and cranky after having entertained my little man all day since he's on spring break)
Level of Deliciousness: Clean Plate
Ease of Clean Up: 7 Paper Towels *see below
Since my oven was still on the fritz, I was thrilled all this required was a stove top. At first blush I wasn't entirely thrilled to try this because, again, it seemed so healthy and vegetarian, but also again, I was proven very wrong. I mean, who would have thought arugula in a quesadilla would be crave worthy? Certainly not me, but it was. Life changer. Not only was this lick your plate delicious, but Caleb got in on the action too.
He loved helping put the quesadillas together and miracle of all miracles, he actually ate an ENTIRE QUESADILLA. And since the recipe came with an avocado and I had some leftover tomatoes from the Salmon Superfood Bowl, I decided to go rogue and instead of just slicing the avocado, made an actual homemade guacamole, thereby allowing me to feel as if I created something on my own in the kitchen this week.
Ease of Cleanup: 7 Paper Towels, but to be fair, *this is entirely because C got involved and tried to eat all of the cheese before sprinkling it on the tortillas. One for C, one for the floor was how that went. If a normal functioning adult was to do this sans child, it would be a 2 paper towel job.
---
[adsenseyu4]
---
IN SUM
ONE POTATO
is amazing. My only regret is not having ordered it sooner. We will order this again for sure, without a doubt. Like,
tomorrow
. (or when we get back from visiting our in-laws, see previous post about our last minute sojourn). And for those of you who want to give it a go, head over to
ONE POTATO
now! 
ENTER CODE

:
ALLY20
for $20 off your first order! Do this now, thank me later.
**Important to note, this post was 100% non-sponsored and un-solicited. It is solely a result of the deliciousness that is One Potato Box.
---
[adsenseyu5][adsenseyu4]