We have so many goals. Writing that book, getting those abs, starting that side hustle and so on. But the greatest unspoken ones are the financial resolutions we need to make! No one wants to talk about money – but we need to start as money is one of life's greatest stresses. Let's prioritize your financial health in 2019. Here are 5 steps to take control of your finances, as offered up by the fastest growing mobile bank, CHIME.
---
[adsenseyu1]
SAVE 10% OF YOUR PAYCHECK
Plain and simple. Save 10% – and only use 90%.
TACKLE YOUR DEBT
Use debit cards and cash. Avoid credit cards!
INCREASE YOUR CREDIT SCORE
Autopay helps a lot with this! Pay down that balance!
INCREASE YOUR RETIREMENT SAVINGS CONTRIBUTIONS
Focus on starting today and contribute to your 401K and meet your employer's match!
INVEST SMARTER
Make it a goal to become financially literate. Determine your goals and find a plan to match them!
+ BONUS: PREPARE FOR EMERGENCIES
Always create an emergency fund with 6 months worth of living expenses, set aside in a savings account. Can you pay your rent/mortgage, health bills, insurance, groceries, diapers, etc. without having to sell investments or even worse, add debt on your credit card? Make sure you can!
---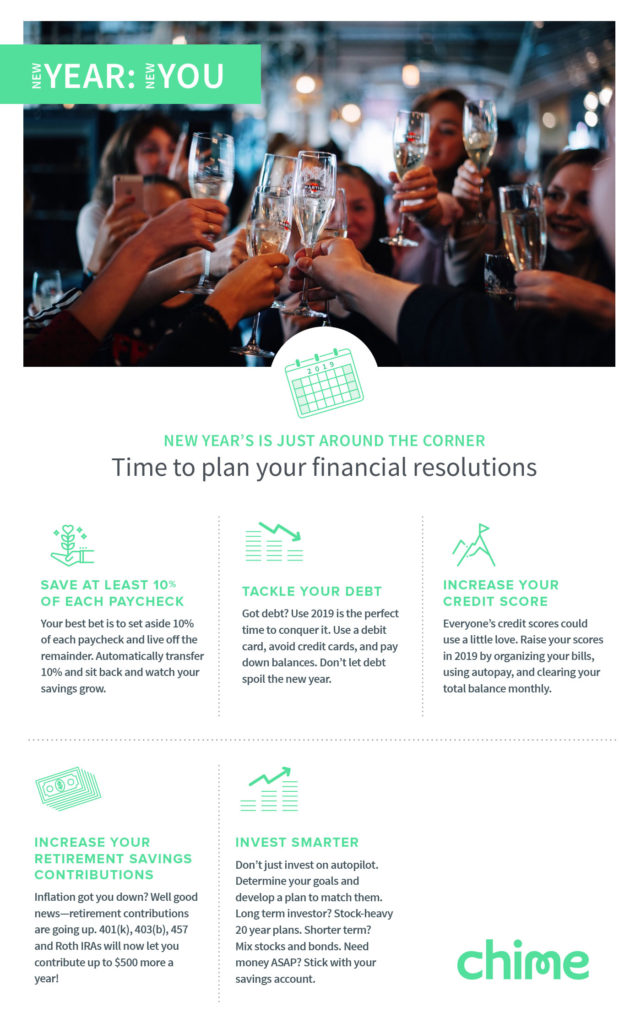 ---
++ And there you go! Thank you for reading. Happy New Year! Now, let's get your finances in order so you can enjoy all that there is to life!
---
[adsenseyu5][adsenseyu4]