I'm a huge beauty junky and I loved my false lashes – but over quarantine, I gave my lashes a much-needed rest and tried to restore them with one of the trillion serums on the market. (I have been torturing them from my extension addiction over these past few years!) I heard about Grand Cosmetics Grand Lash – MD Lash Enhancing Serum and then saw the 1,500 ish almost perfect scores on Sephora claiming it was the best eyelash growth serum on the market right now — so I decided to give it a whirl. (And it's true. I love this product so much and I noticed a difference even after only one week. And their brow serum is equally impressive!)
THE BEST EYELASH GROWTH SERUM
GrandeLASH MD is infused with vitamins, antioxidants, and amino acids which allow for naturally longer and thicker-looking lashes in just four to six weeks, with full results in three months. I'm psyched since, although my lashes aren't thinning, I've got those short Asian lashes! And I thought there was no better way to repair my damaged lashes while beautifying them at the same time!
HOW TO USE GrandLASH-MD
It's actually super simple! Just apply a single swipe of GrandeLASH-MD to the upper lash line daily, in the evening before bed. Just like you're applying eyeliner. For maximum results use for a 3 month period – but you'll start seeing results in 4-6 weeks!
WHY GrandLASH-MD?
Unbeknownst to me, GrandLash is a 10x-award-winning eyelash conditioner created with a proprietary blend of vitamins, peptides, amino acids and conditioning ingredients. This is what promotes shiny, lush and also longer-looking lashes.
WHAT ARE ITS KEY INGREDIENTS?
Hyaluronic acid – A water-binding ingredient that helps naturally promote beautiful looking lashes.
Peptides – An effective combination of amino acids, the building blocks of proteins.
Prostaglandin I.C. – The main ingredient which helps to extend the length of the lash growth cycle.
Hydrolyzed Glycosaminogylcans – A highly effective moisturizing and hydrating agent
that adds moisture and sheen to the lashes.
Allontoin – Derived from the comfrey plant, it helps prevent irritation and assists to soothe, calm and add moisture to lashes.
EXTRA BONUS
This product is ophthalmologist-tested and approved, vegan, and cruelty-free. It is safe to use with eyelash extensions (so you can do a gradual adios to your falsies) and can help promote a longer-lasting bond life.
So say so long to your falsies for NO FALSIES FEBRUARY! And bring your natural lashes to their utmost potential!
Grand Lash is the best eyelash growth serum – so give it a whirl!
---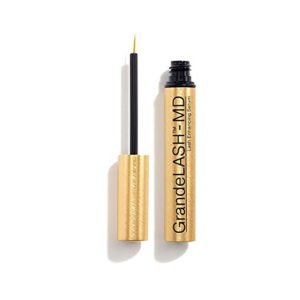 ---
[adsenseyu1][adsenseyu2]