Vegamour Haircare promises increased hair density and less hair loss within 120 days. I can't wait to try it especially with my obsession with healthy long locks and its promises of biotin! Here's what I found.
Can Vegamour Haircare Really Give You Thicker, Healthier-Looking Hair?
The Vegamour Haircare line has shampoo, conditioner, a scalp massager, serums, mousse, and gorgeously delicious pink biotin gummies. I tried them all out to see if vegan haircare could really do its promised magic.
GRO Revitalizing Shampoo and Conditioner
It turns out I am obsessed with the smell, texture and efficacy of Vegamour's shampoo and conditioner. The delicious duo contains plant actives and proprietary vegan keratin, which is formulated to deliver an incredible and healthy sheen.
(My daughter is obsessed with the smell!)
---
GRO Revitalizing Shampoo and Conditioner utilize microencapsulated vegan b-SILK™ protein which physically bonds to hair follicles and remains attached to strands even after rinsing, making these nourishing formulas the world's first chemical-free keratin hair treatment products. – VEGAMOUR

---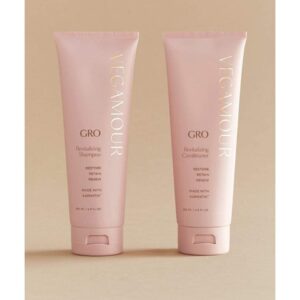 ---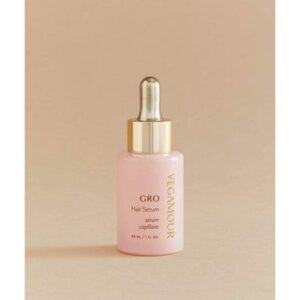 ---
These are hands down, my fave of their products! Not only is the chic pink packaging so delightful, but it sits beautifully on your mantel. And the gummies themselves are delicious and Instagram-ready! There is an abundant vegan dose of biotin, a dash of folic acid and vitamins A, C and E.
Every bottle of Lovestruck Biotin Gummies for Hair (and brows and lashes!) is infused with all the sweetest nutrients your hair craves to grow, flourish and glow. They're so beautifying – you can get them at Sephora too!
Vegamour Gro+ is one of the lowest-maintenance hair-loss products I have ever used – and I look forward to them every morning!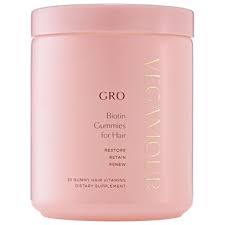 ---
VEGAMOUR REVIEW CONCLUSION
I am undoubtedly a new convert. Also, I love everything about Vegamour and their variety of products to choose from. The vegan aspect, its superb efficacy, its gorgeous packaging. It's no wonder top outlets are writing about them (Allure, Who What Wear, Vogue) and have an IG following of 215k+ and growing!
WHERE TO BUY
Buy it from their website or on Sephora.com. So, the best part is that Vegamour is certified Clean at Sephora!
Next steps? Trying their lash serum!
---