THE BETTER SKIN CO
Ladies and Gents!
No more waiting time for your precious Better Skin Co. cargo to arrive! On March 18th, the Better Skin Co. is coming to an Ulta Beauty Store near you (and me) (and everyone)! I've spoken of this lovely magic skincare brand many many-a-times — and I've hooked many of my friends to the Better Skin Co.'s Mirakle Cream and Lava Magik.
It's vegan, cruelty-free, gluten free, paraben free – but anti-aging and skin-nourishing full! And wait…there's more!
To celebrate this occasion, a FREE Deluxe Traveler (.25 oz. of Mirakle Cream) will be given with any in-store Better Skin Co. purchase!
And from 3/18 to 4/7, ULTA.com will be offering Lava Magik at 40% off as part of their 21 days of Beauty promotion. Oh my yes!
---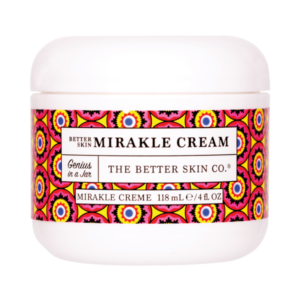 And before I go, here's some intel on their top selling products:
Better Skin Mirakle Cream; 2 oz., $34
• This ingredient rich recipe, imported from the Republic of Uzbekistan, is handcrafted in the USA with love and beautiful ingredients such as coconut oil, sea buckthorn, shea butter, cocoa butter, aloe, and soothing algae to help moisturize the skin.
• Peptides and hyaluronic acid help skin appear smoother, more youthful and radiant.
Better Skin Zit No More; .2 oz., $18
• Zit No More is a super strength zit zapper in an easy breezy rollerball.
• This wonder potion contains salicylic acid wrapped in THREE soothing essential oils.
• The formula is boosted with PhytoVie® pollution defense to assist the skin with its battle against pollutants.
• Paraben-free, Gluten-free and Vegan For All Skin Types, Women & Men.
Better Skin Epik C Vitamin C Serum; 1 oz., $42
• A super hydrating, skin tightening, spirit lifting serum that reduces the appearance of fine lines using cutting-edge plant-based technology.
• Advanced Vitamin C formula works hard to improve the appearance of skin.
• Botanicals and fruit extracts help guard against pollution.
• Scented with a hint of lemon.
Better Skin Lava Magik– Cleanser • Scrub • Mask; 2 oz., $32
• A daily cleanser, exfoliating scrub and revitalizing mask.
• Skin cleansing volcanic lava from France enriched with nourishing calendula, sweet orange and grapeseed oils, cucumber, parsley, and chamomile for healthy radiant, more youthful looking skin.
---
[adsenseyu5][adsenseyu2]